Sonic Acts Press, The Netherlands - Printed Matter: Book + DVD
The Anthology of Computer Art is an selection of texts and images that covers the early years of computer art, and assesses its influence on the contemporary computer arts scene. It was compiled by Arie Altena and Lucas van der Velden on occasion of the eleventh Sonic Acts festival (23-26 February 2006). The 96 densely printed pages feature texts and/or images by the pioneers of computer art, including Lejaren Hiller, Iannis Xenakis, Max Bense, Georg Nees, Gene Youngblood, John Whitney, Frieder Nake, Manfred Mohr, Vera Molnar, Tony Longson and Ken Knowlton. These are supplemented by new essays written by Kim Cascone, Wolf Lieser, Greg Kurcewicz and C.E.B. Reas.
Buy online at: Paradiso store.
Contents
Arie Altena & Lucas van der Velden, Editorial
C. E. B. Reas, Who are the Progenitors of the Contemporary Synthesis of Software and Art? 2006
Lejaren Hiller Jr., Computer Music, 1959
Iannis Xenakis, from Free Stochastic Music by Computer, 1965
Georg Nees, images, 1965
Max Bense, Generative Aesthetics Projects, 1965
Frieder Nake, images, 1965
Jasia Reichardt, Computer Art, 1968
Max Bense, Small Abstract Aesthetics, 1969
Georg Nees, [statement] 1969
Gene Youngblood, from Expanded Cinema, 1970
John Whitney, images, 1961 - 1975
Frieder Nake, There Should Be No Computer Art, 1971
Frieder Nake, Technocratic Dadaists, 1972
Lillian Schwartz, images, 1972/1973
Manfred Mohr, 'Untitled Statement', 1975
Manfred Mohr, images, 1971/1973
Vera Molnar, 'Untitled Statement', 1975
Tony Longson, images, 1975/1978-1986
Ken Knowlton,'Untitled Statement', 1976
Kenneth Knowlton, Portrait of the Artis as a Young Scientist, 2004
Kim Cascone, Laptop Music -- Counterfeiting Aura in the Age of Infinite Reproduction, 2006
Greg Kurcewicz, On the Resurgence of Interest in Visual Music, 2006
Wolfgang Lieser, Digital Art: From the Viewpoint of a Dealer, 2006

Arie Altena & Lucas van der Velden, editors, The Anthology of Computer Art, Sonic Acts XI 2006, Sonic Acts Press, Amsterdam 2006, Design Coup, 96 pages, black & white, English text, includes free Sonic Acts XI DVD, and Sonic Acts poster.
Sonic Acts XI: http://www.sonicacts.com/index_06.html
More design by COUP: http://www.coup.nl/coup-2009/SA.html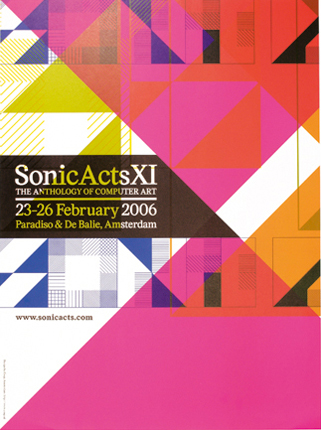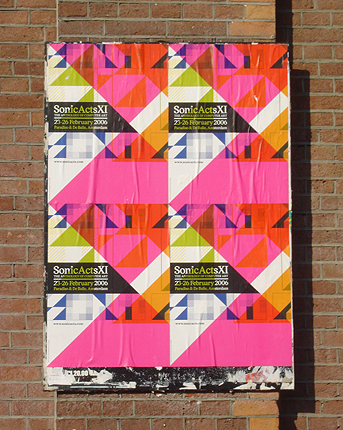 Arie Altena
index