The Poetics of Space
Spatial Explorations in Art, Science, Music & Technology
Sonic Acts XIII
Edited by Arie Altena
The Poetics of Space: Sonic Acts XIII, Spatial Explorations in Art, Science, Music & Technology is a book I edited with help of the Sonic Acts team (Lucas van der Velden, Martijn van Boven, Nicky Assmann, Annette Wolfsberger, Gideon Kiers) on occasion of Sonic Acts XIII, 2010: http://sonicacts.com.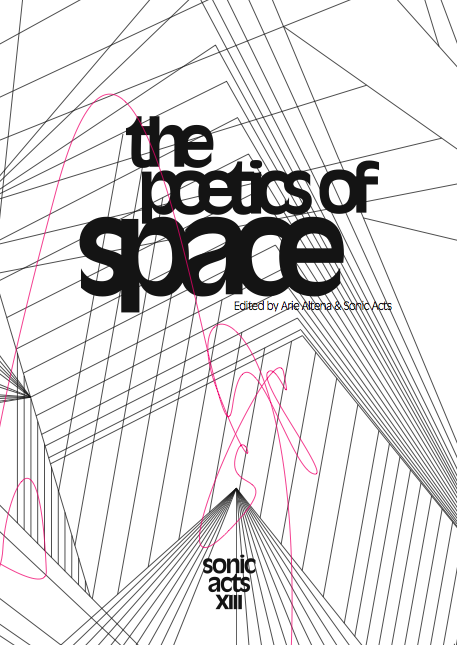 The interviews, essays and the image material in the publication Sonic Acts XIII, The Poetics of Space provide insights into the various approaches to spatiality by artists, composers, filmmakers and theorists. For The Poetics of Space Brandon LaBelle wrote a reflective and reflexive text on the voice and space: 'Voice Over'. Douglas Kahn's essay 'Long Sounds' discusses extremely long sound waves, volcano eruptions and Alvin Lucier. Erkki Huhtamo traces the fascinating history of dioramas in 'The Diorama Revisited'. The legendary Vortex concerts of Henry Jacobs and Jordan Belson are the subject of both Cindy Keefer's short historical account as well as a freer interpretative article by Trace Reddell. Eric Kluitenberg describes how mobile and location-aware technology profoundly changes the use of social and public space. Mitchell Whitelaw writes about the work of HC Gilje; the Finnish architect Juhani Pallasmaa about architecture and the senses; and Barry Truax about soundscape composition. Interviews with TeZ, Raviv Ganchrow, Edwin van der Heide, Daan Roosegaarde, Sonia Cillari, Marc Maurer, Taku Mizuta Lippit and Maryanne Amacher shed light on how contemporary artists approach space and spatiality. The book is richly illustrated and contains a number of autonomous image contributions as well as some historical material.
Edited by Arie Altena & Sonic Acts
Design by Femke Herregraven
Published by Sonic Acts Press, Paradiso 2010
256 pp., English text, illustrated
Interviews by Arie Altena with Raviv Ganchrow, Taku Mizuta Lippit, TeZ, Edwin van der Heide, Daan Roosegaarde, Marc Maurer.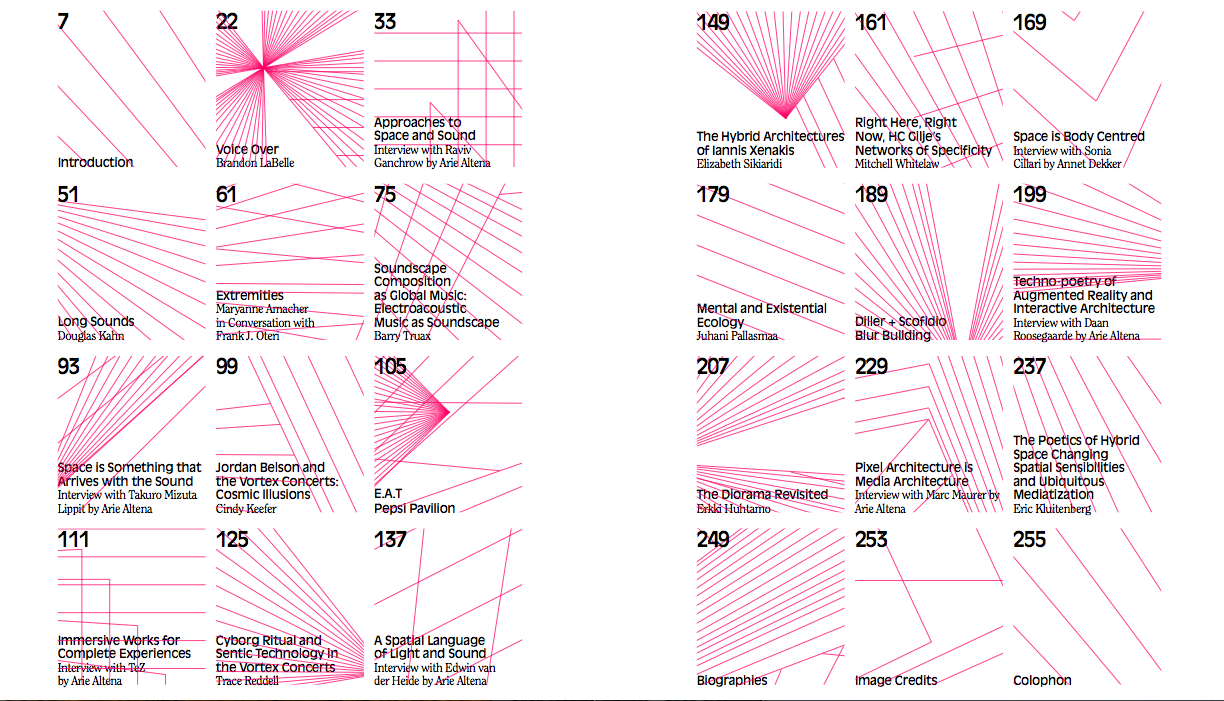 Contents
22 Voice Over by Brandon LaBelle
33
Approaches to Space and Sound
Interview with Raviv Ganchrow by Arie Altena
51 Long Sounds by Douglas Kahn
61 Extremities Maryanne Amacher in Conversation with Frank J. Oteri
75 Soundscape Composition as Global Music: Electroacoustic Music as Soundscape by Barry Truax
93
Space is Something that Arrives with the Sound
Interview with Takuro Mizuta Lippit by Arie Altena
99 Jordan Belson and the Vortex Concerts: Cosmic Illusions by Cindy Keefer
105 E.A.T: Pepsi Pavilion
111
Immersive Works for Complete Experiences
Interview with TeZ by Arie Altena
125 Cyborg Ritual and Sentic Technology in the Vortex Concerts by Trace Reddell
137 A Spatial Language of Light and Sound Interview with Edwin van der Heide by Arie Altena
149 The Hybrid Architectures of Iannis Xenakis by Elizabeth Sikiaridi
161 Right Here, Right Now, HC Gilje's Networks of Specificity by Mitchell Whitelaw
169 Space is Body Centred Interview with Sonia Cillari by Annet Dekker
179 Mental and Existential Ecology by Juhani Pallasmaa
189 Diller + Scofidio: Blur Buildling
199
Techno-poetry of Augmented Reality and Interactive Architecture
Interview with Daan Roosegaarde by Arie Altena
207 The Diorama Revisited by Erkki Huhtamo
229 Pixel Architecture is Media Architecture Interview with Marc Maurer by Arie Altena
237 The Poetics of Hybrid Space Changing Spatial Sensibilities and Ubiquitous Mediatization by Eric Kluitenberg
249 Biographies
253 Image Credits
255 Colophon