Arie Altena
index
unsorted, Thoughts on the Information Arts
An A to Z for Sonic Acts X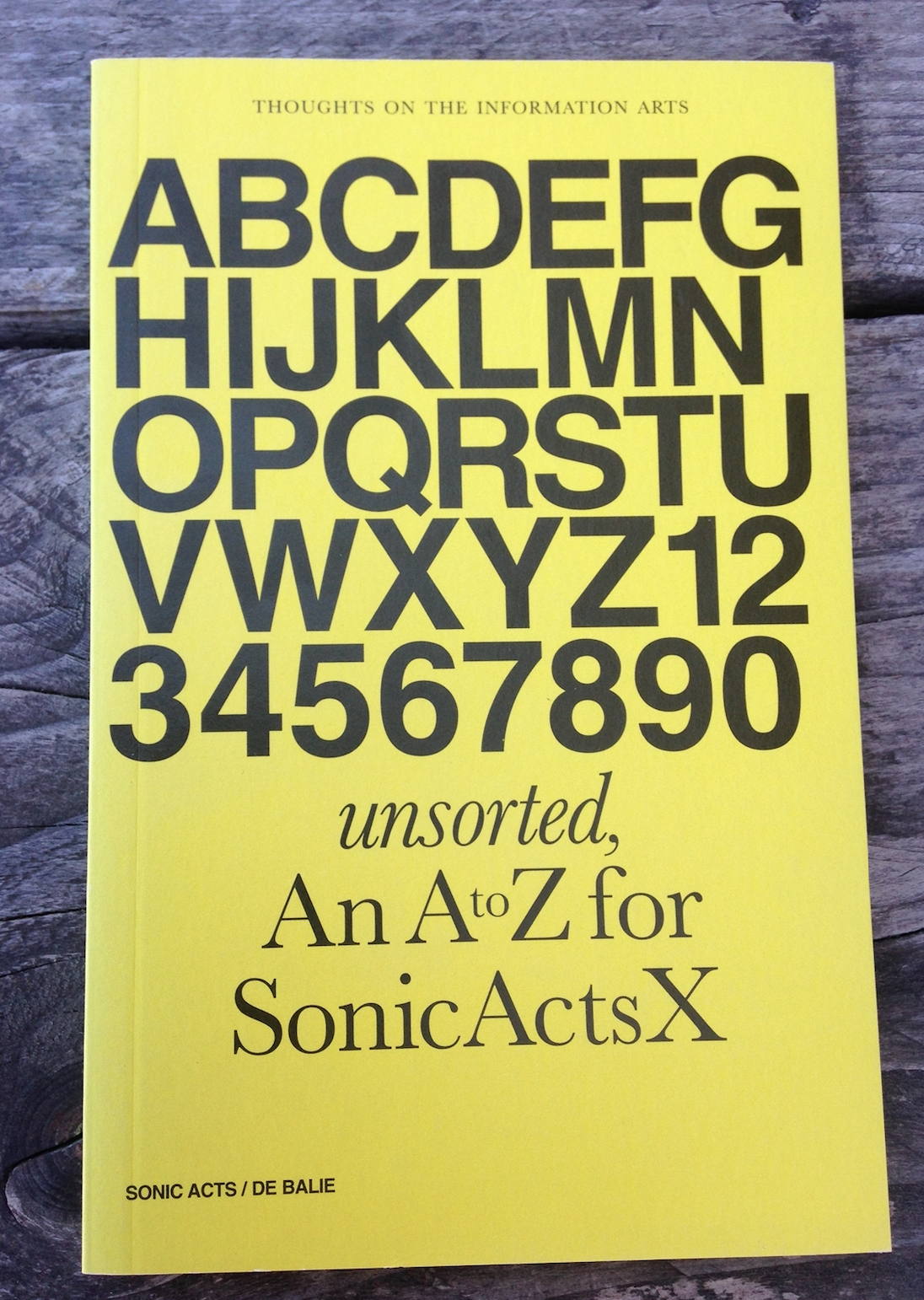 Edited by Arie Altena / Sonic Acts
Published by Sonic Acts Press / De Balie, 2004
Design by Will Holder
Book, paperback, 120 pp., English text, illustrated
Format: 9,5 x 14,7 cm

Art reflects the society, which gave birth to it. It is therefore not surprising that many new art forms have emerged in recent years (from computer art to neo-conceptualism and from business art to genomic art) which in form and content are rooted in the information society: the information arts. These information arts often defy several paradigms on which traditional art forms are based. Therefore we have to pose the question if there are other models of categorization that provide us with a better insight in the arts. Rather than having the pretensions of sorting it all out, this publication discloses some of the relevant questions.
Table of Contents
5 Abstraction and Complexity by Lev Manovich
17 Art as Research by Stephen Wilson
32 Colophon
33 Driessens & Verstappen
45 Hearing Pure Data by Mitchell Whitelaw
54 Introduction by Taco Stolk
57 Listening Post by Mark Hansen & Ben Rubin
59 Organic and Conceptual Systems interview Casey Reas/Bert Balcaen
65 Programme unsorted, SonicActsX, Paradiso Amsterdam
97 Raster-Noton
99 Casey Reas
103 RES by Benjamin Gaulon
104 The Reverb Engine by tobias c. van Veen
111 stAllio!
113 tobias c. van Veen
115 Yellow after Wassily Kandinsky, by Will
Still for sale at the Sonic Acts shop for 2,50.
PDF download
These are all black on white, the book however is printed on yellow paper.
PDF 1-64
PDF programma Sonic Acts X 65-96
PDF 97-128
Arie Altena
index