Oorbeek Now | Events | Things | People | Mp3s | Text | Links | Contact
Oorbeek Events 2001 - Now
4 March 2023
Oorbeek at OCCII, Amsterdam
PLOT, An Evening of Sound & Image at the OCCII, with Oorbeek and a host of other acts.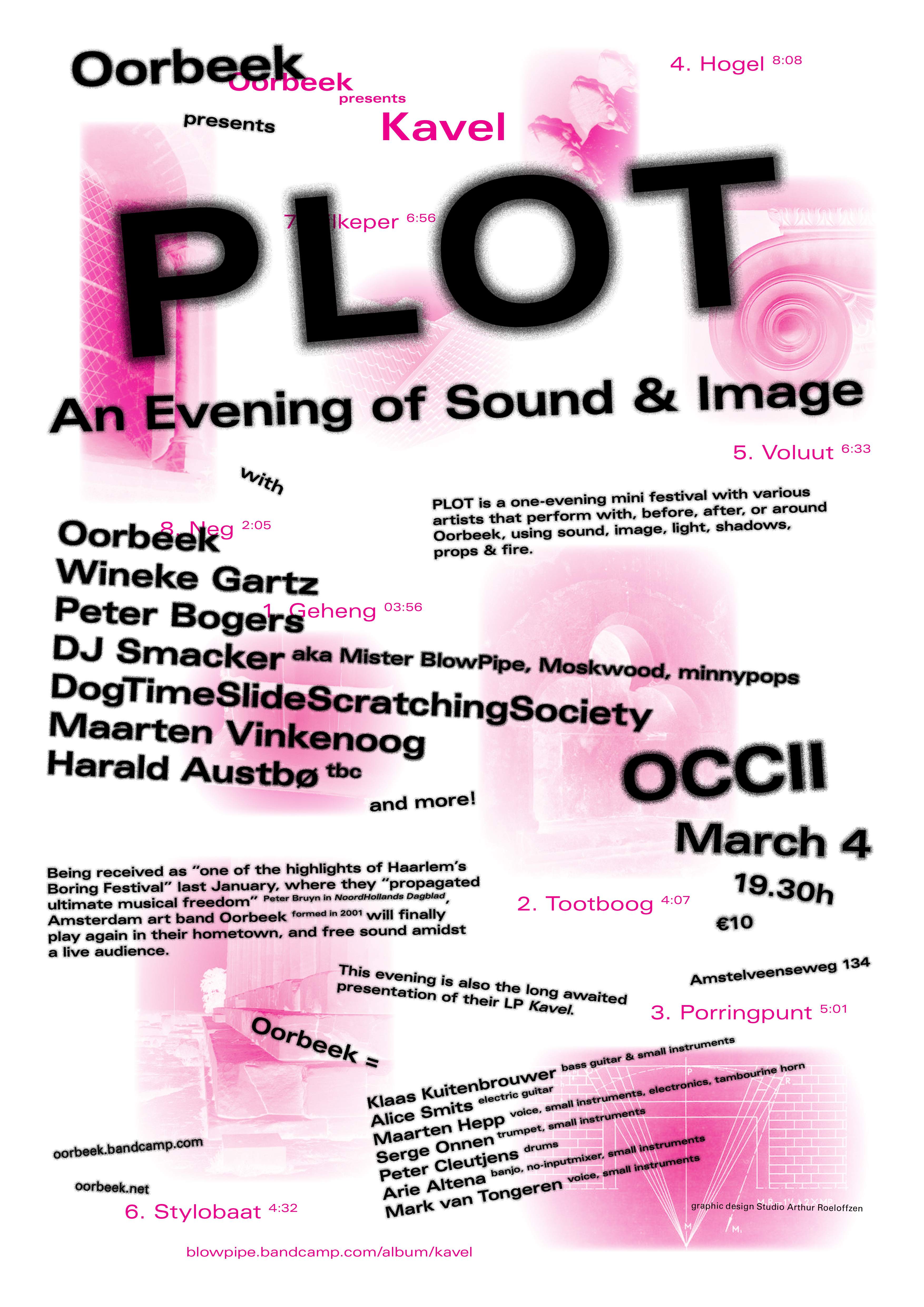 21 January 2023
Oorbeek at Boring Festival, Haarlem
Oorbeek plays at the Vishal as part of the Boring Festival, Haarlem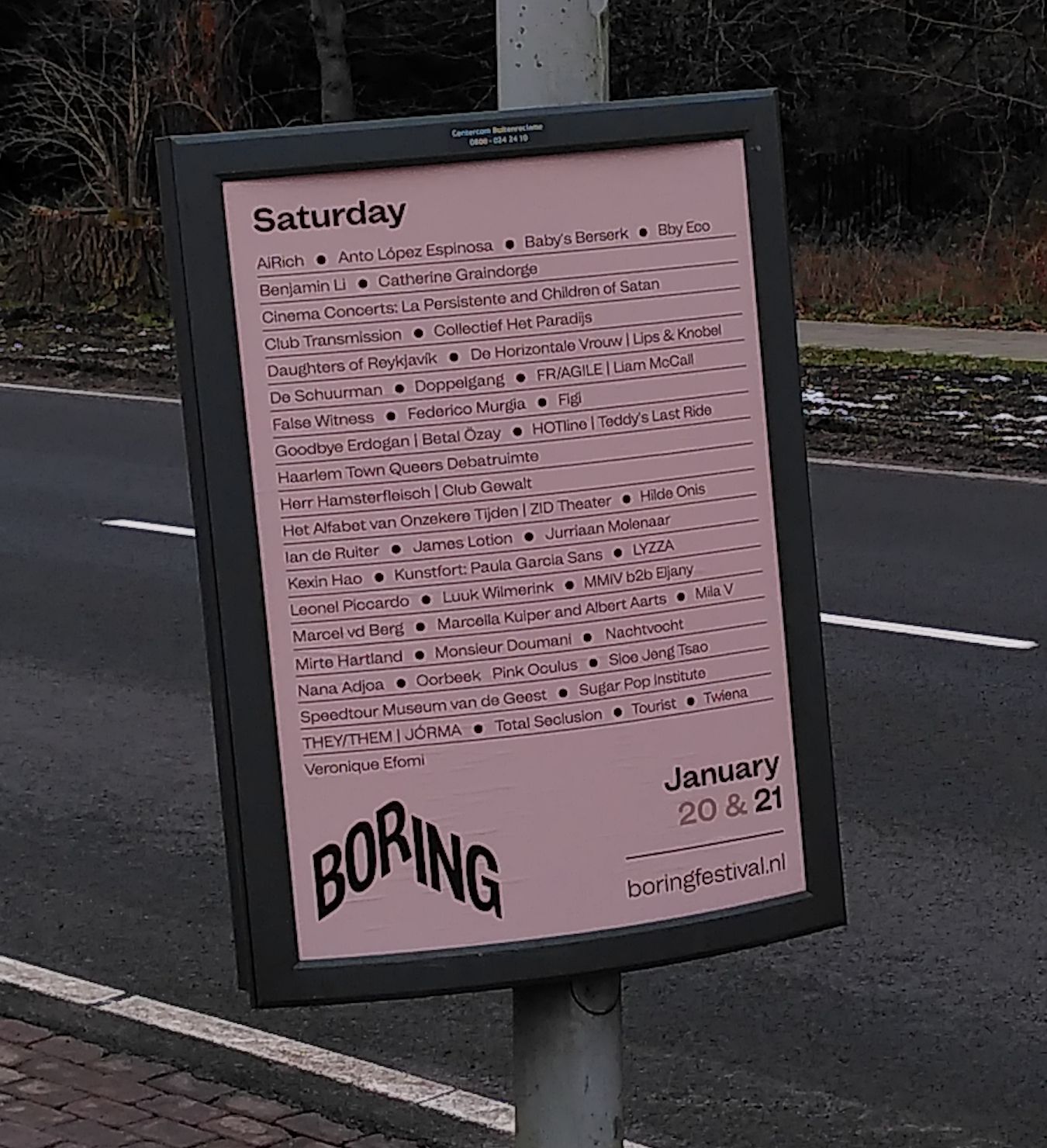 19th December 2021
Latencies
Getting together on Jamulus, somewhere in Dubai
Live online, Wen-Shui, Taipeh & Amsterdam-Noord
In Amsterdam-Noord
KK, MH, AS, AA
In Taipeh
Mark van Tongeren: voice, small instruments
Lee Shih Yang: piano
--->
--->
Minyen Hsieh: saxophones
--->
--->
--->
Sayun Chang: percussion
--->

As part of the Taiwan International Improvisation Festival IV
12 December 2021
Latencies
Online video screening
Oorbeek at Kunstkapel
Video by Lee Elickson
As part of the Taiwan International Improvisation Festival IV
With also Siew-Wai Kok, Yandsen Yong, Elico Suzuki, Tetuzi Akiyama, and Chiho Oka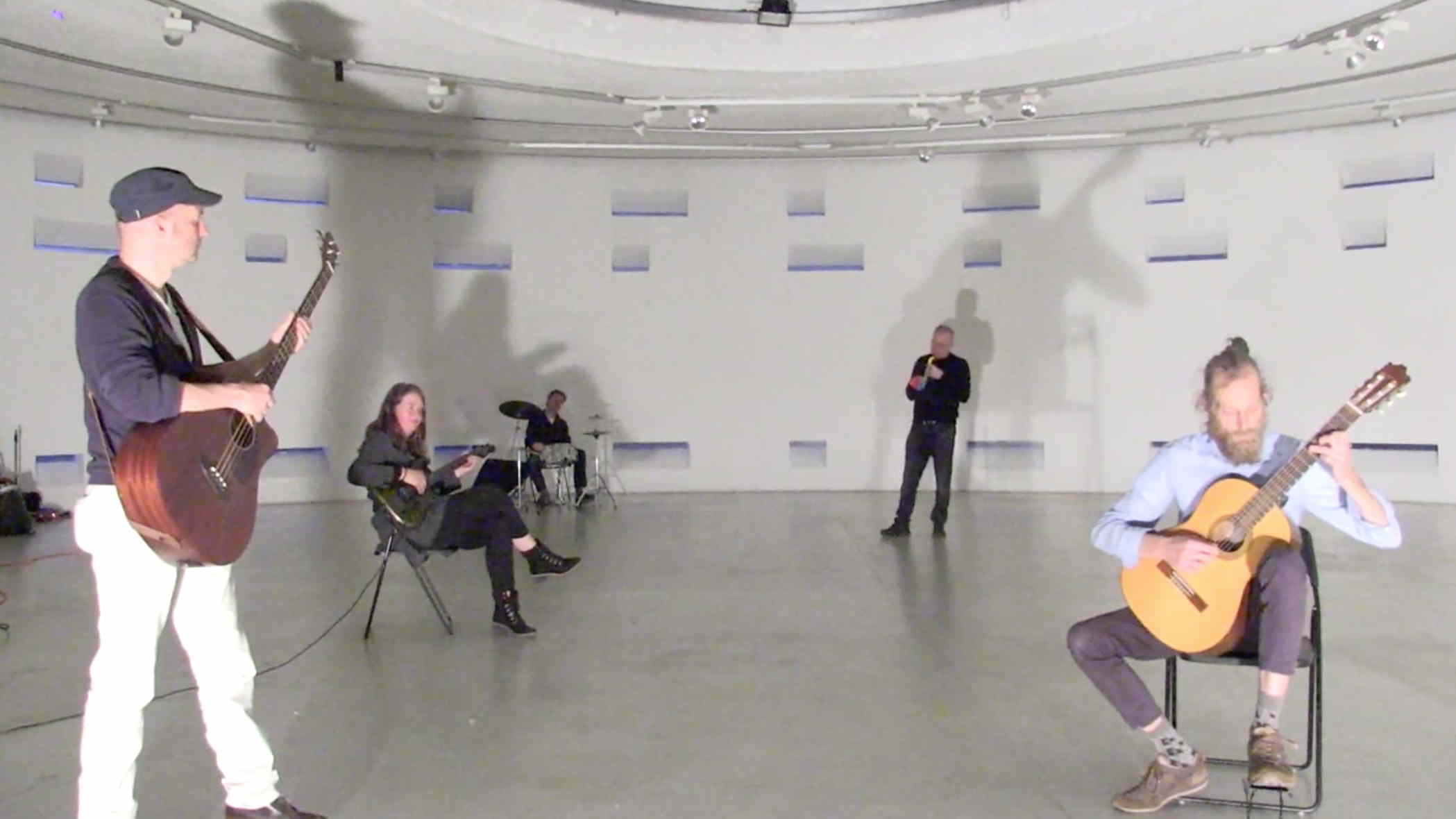 23d October 2021
Lectures on Latency
Arie Altena: Playing behind the beat, we are delay
Mark van Tongeren: Yodeling and the Pashtaai ritual of the Saisiyat tribe
Lee Shih Yang: Canons, Bach, Nancarrow, Ligeti, Tenney
Online
Wen-Shui, Taipeh
As part of the Taiwan International Improvisation Festival IV
More about this at: Fusica: The Latencies Project
|
|
|

2020 gigs cancelled.
|
|
|

16th December 2018
The Fear of Small Numbers
Oorbeek plays at the finissage of Serge Onnen's solo exhibition The Fear of Small Numbers at Kunstfort Vijfhuizen
16:00h
Kunstfort Vijfhuizen
Fortwachter 1, Vijfhuizen
www.kunstfort.nl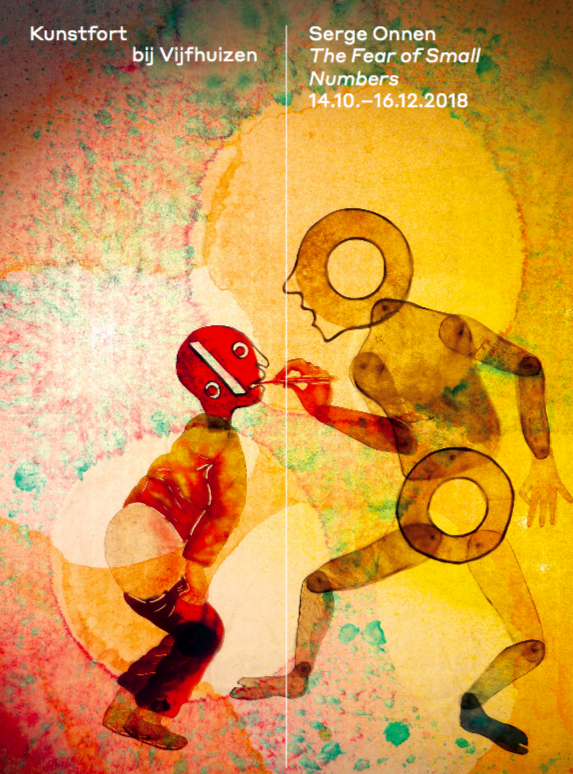 28th November 2018
Beam me up Gerrit
Oorbeek plays in the main hall of Paradiso, Amsterdam for the 50th anniversary of the Gerrit Rietveld Academy. With hats by Iekeliene Stange.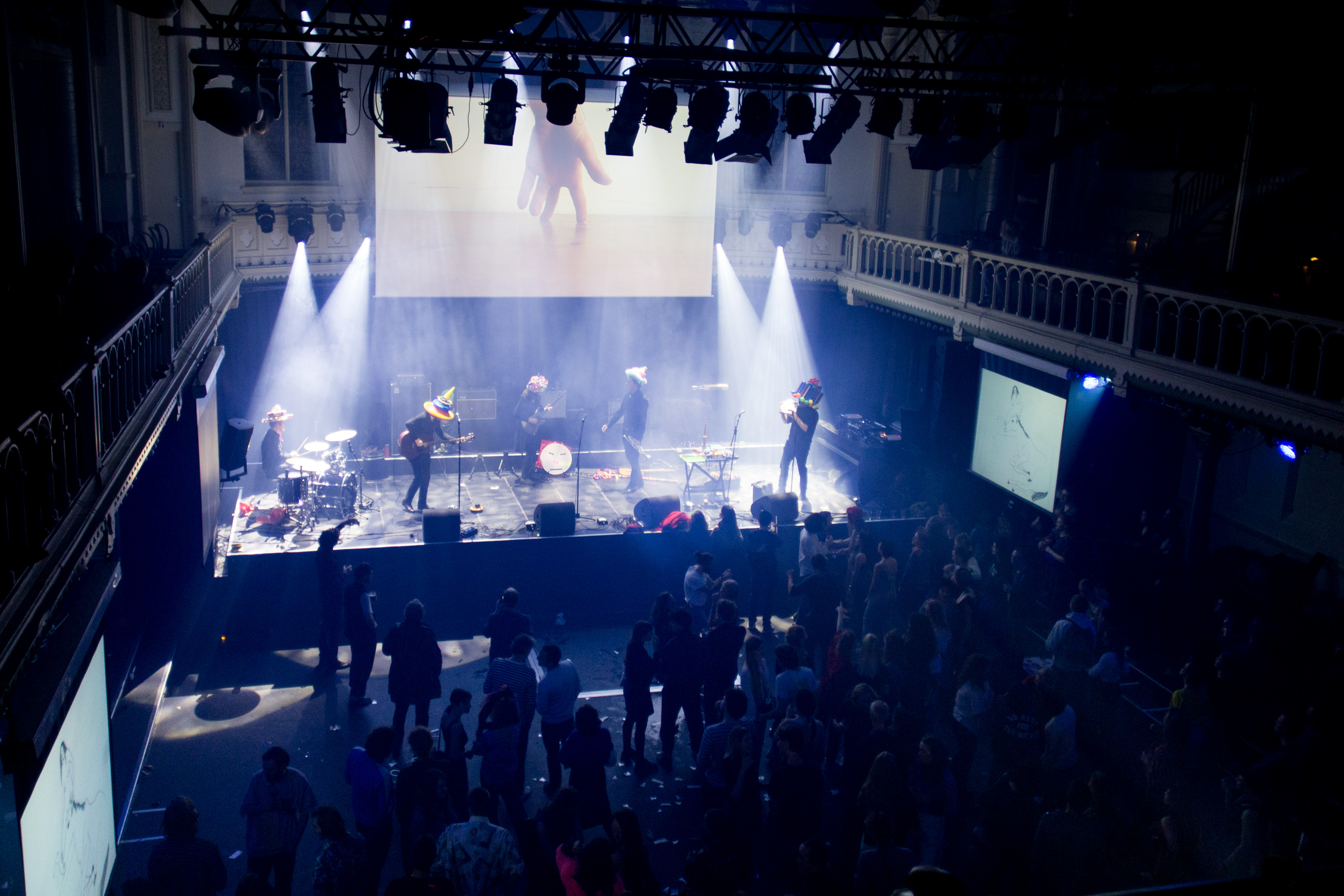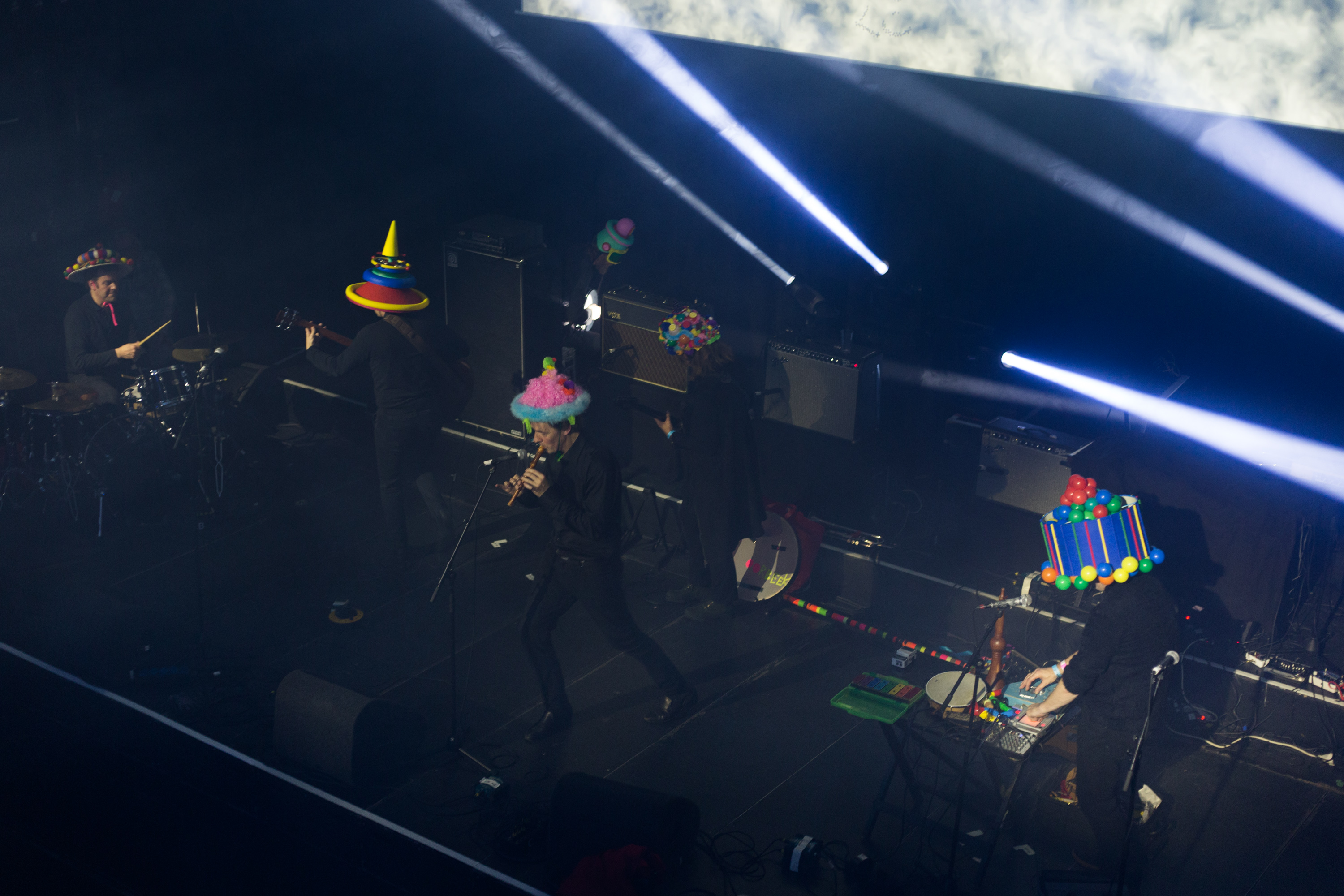 Photos by Nikola Lamburov
14th November 2018
Oorbeek at West Wednesdays, Tetterode, Amsterdam
The November 2018 edition of West Wednesdays (in Amsterdam) is all about PLAY
The programme starts at 18:00h at the WG-terrein and arrives around 19:45 uur at Tetterode.
Oorbeek plays at 20:40 at the creche of Tetterode.
Tetterode
Bilderdijkstraat 165-B
1053 KP Amsterdam
19.30 – 21.00 uur
Full programme at www.westwednesdays.com/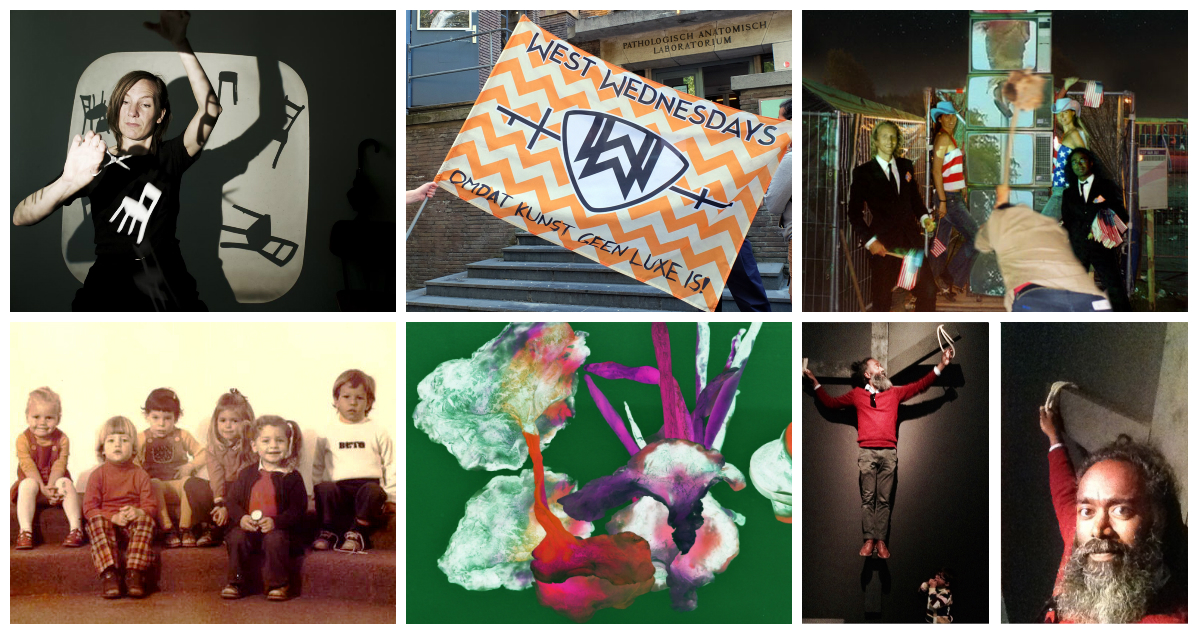 14th January 2017
Oorbeek at Boycott Books
The kick off party of Serge Onnen's fundraising tour for his new shadow puppet film "L'eau faux" with drinks, food, music & performances! Boycott Books
15:00h (first set Oorbeek at approx. 16:00/16:30
Waddenweg 10
Amsterdam-Noord
www.boycottbooks.com/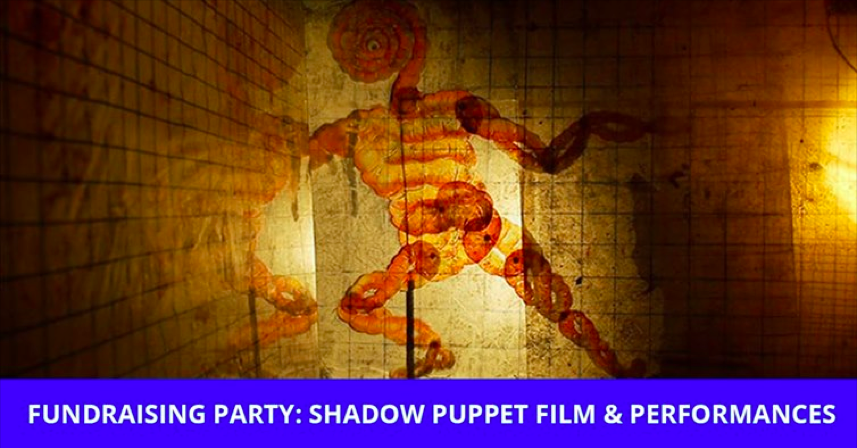 PROGRAM:
SHADOW PUPPET THEATRE IN THE BASEMENT
Boycott Books' basement will be turned into a small theater stage! Don't miss out on the shadow puppet performance by Serge Onnen & Klara Alexova! Music collective OORBEEK will create a live soundtrack.
Time: 16.30 h.

FILM SCREENING - CLOACINAE BY SERGE ONNEN & SVERRE FREDERIKSEN
Every modern society is based on two invisible, man-made structures: the financial and the sanitary system. Civilisation is in danger if one of the two fails. Cloacina is the Roman goddess of the first modern sewer, the Cloaca Maxima in Rome. This animation about finance and hygiene that features Chinese shadow puppets and a plethora of pre-cinematographic techniques, such as phenakistoscope and zoetrope, follows a coin that has fallen into the sewer. The film was nominated for Tiger Shorts at the International Rotterdam Film Festival of 2017.
Duration: 25 minutes
Screened a couple of times starting from 15.30 h.

Bring money & children!

30th May 2015
Oorbeek at Paleis van Mieris, Amsterdam
A monumental historical building, previously the depot of the Rijksmuseum
Three stories, now empty, with large holes in the ceiling
We play on all three stories, with the public downstairs 21:00h
Frans van Mierisstraat 92, Amsterdam
If you come early you can play minigolf at the minigolf exhibition.
www.paleisvanmieris.nl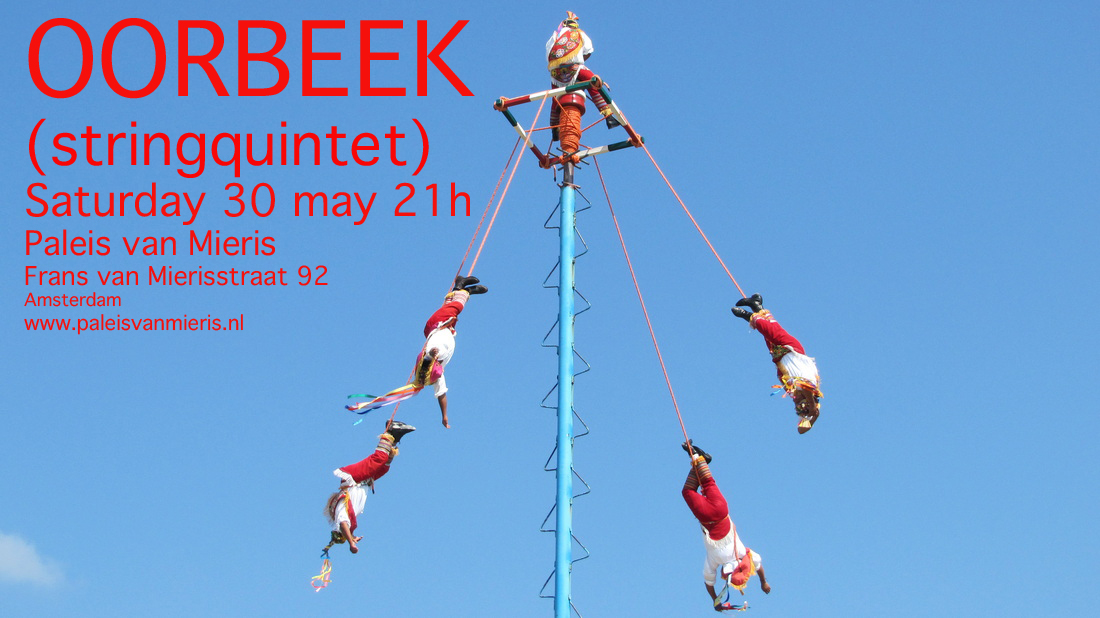 (Oh, and between May 2012 and May 2015 we did several smaller concerts, but we forgot to list them here....)
13th May 2012
Maze concert Oorbeek in the Amstelpark, Amsterdam Foundation Zet presents Oorbeek
in the labyrinth of the Amstelpark
14:00 exact
part of the 40 years Amstelpark celebrations
8th of January till the 19th of February 2012
Foundation Zet presents
OORBEEK '10 jaar opnieuw beginnen' / '10 years of starting again'
Glazenhuis, Amstelpark

With:
Kinetic-acoustic sound installation for all senses and all ages
A new film by Lee Elickson featuring all Oorbeek members
Oorbeek paraphernalia & memorabilia

Opening January 8th 2012, 14:00h

Special program every Sunday at 15:00.
15 January: Oorbeek performs with Eskalibur
22 January: Oorbeek in the Dark
29 January: Oorbeek plays with kids: improvisation workshop and concert
(children may bring their own instrument)
5 February: Composition workshop by Klaas Kuitenbrouwer for students of HKU and Rietveld
12 February: Concert in the labyrinth
19 February: Finissage, Oorbeek concert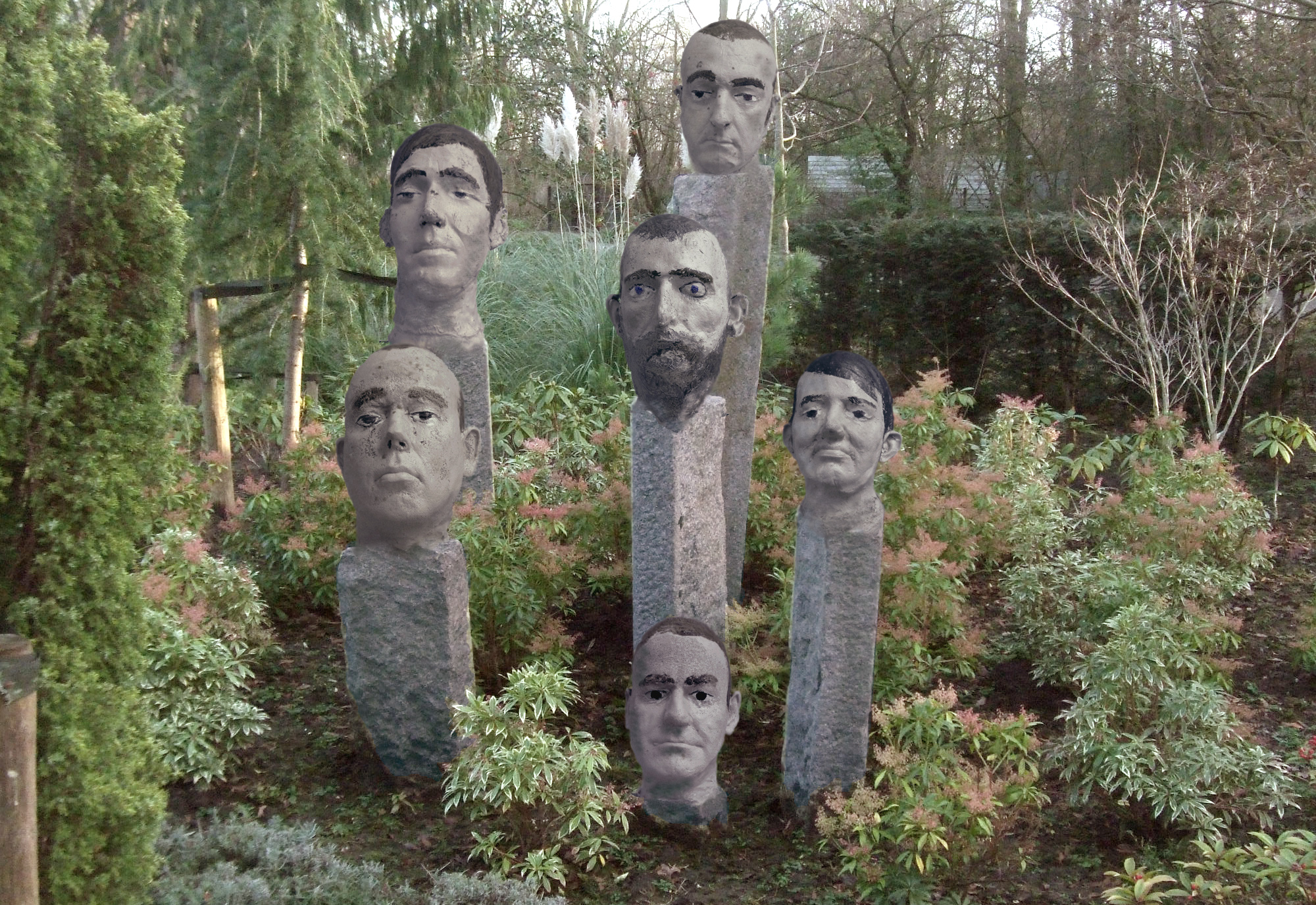 The Glazenhuis (Glass House) is a gallery in the Amstelpark, Amsterdam. You can reach it easily by jumping on a bike, and cycling along the Amstel (at the western side). Take the second entrance (the new one), it's just 100 meters walk from there. Bikes are not allowed in the park, so park them outside. Or take bus 62, tram 4 or metro 51, (get off at Rai), and take the small entrance on the Europaboulevard with the red bridge into the park.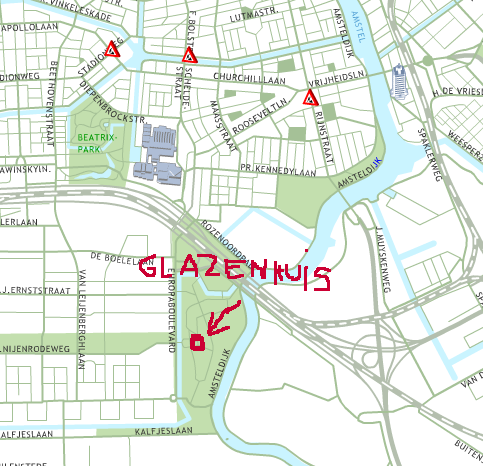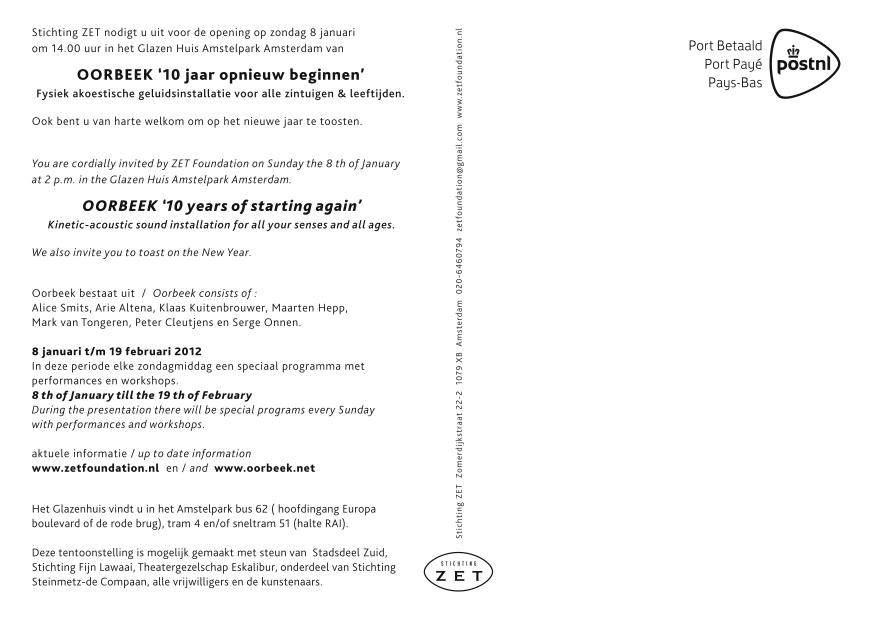 This exhibtion is made possible thanks to Stadsdeel Zuid, Foundation Fijn Lawaai, Theater company Eskalibur, part of Steinmetz-de Compaan, all volunteers and the artists.
16 December 2011
Oorbeek plays at Amsterdam Dinner Movement at Kitchen139
Shebeen with DIY bars by 20 institutions and initiatives.
22: 00 hrs, entrance free
W139
Warmoesstraat 139
1012 JB Amsterdam
http://w139.nl/en/article/20350/kitchen139/
30 October 2011
Oorbeek plays at the finissage of the Kunst aan de Schinkel Festival in a tram leaving from the Haarlemmermeerstation and at the Soledad Senlle Gallery, Amsterdam
16:30 - 18:30 hours, entrance free
http://www.kads.nl
http://www.soledad.nl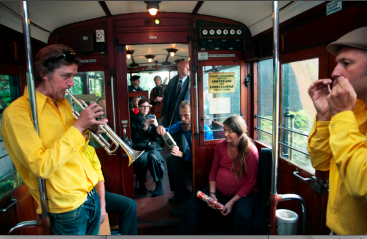 Sunday 18 September 2011
Oorbeek plays in a tram
Oorbeek plays at the opening of the Kunst aan de Schinkel Festival in a tram leaving from the Haarlemmermeerstation, Amsterdam
16:30 - 17:30 hours, entrance free
http://www.kads.nl

Thursday 8 September 2011
Premiere documentaire ' Eskalibur' van Reinier Noordzij.

"Eskalibur is a theatre workshop in The Hague where mentally handicapped actors and dancers collaborate in theatre productions. This documentary follows five dancers from rehearsals to the premiere; we see how they work on their latest dance production, and the way they turn their personal struggles into movement and dance. The documentary is about five people whose characters and reputations often seem to merge, in a place where emotions are invariably exposed." Featuring some music by Oorbeek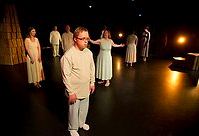 http://www.graduation2011.masterfilm.nl/iframe/reinier.html
Friday 22 July 2011
Oorbeek plays at Club Karlsson, 3 screenings of the same 20min movie with 3 different soundtracks.

On this evening these ensembles will improvise live on the animation The Song of Mr Halewyn.

- Oorbeek (liberators of sound)
- Santiago Botero and Mauricio Ramirez (jazz)
- Arnoud Traa and Martijn Smid (Gerauschemacher/ foleyartist)

20:30 hrs, free entrance
Club Karlsson
Keizersgracht 264 attic of NIMk
Amsterdam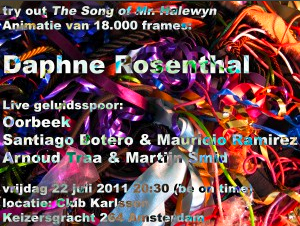 3-26 June 2011
Fuse Works: Alarums and Excursions show, Brooklyn, NY

Serge Onnen "Obromanie": a DVD of a shadow performance of his band Oorbeek in a specially prepared gazebo in a park in Amsterdam, with a full-color zine.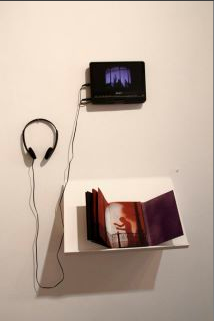 Alarums and Excursions, shows new works at the Front Room Gallery and runs from June 3 - 26, 2011. Participatin artists: Gregory Curry, Glen Einbinder, Ross Racine, Chuck Jones, Jody Hansen, Luca Bertolo, Andrew MacDonald, James Leonard, Celeste Fichter, Peter Feigenbaum, David Shapiro, Jan Obornik, Chiara Camoni, John O. Smith, Julia Whitney Barnes, Rik de Boe, Lotte Lindner and Till Steinbrenner, Sarah Vogwill, George Spencer, Emily Roz and Cammi Climaco, Seldon Yuan, Serge Onnen and Cadence Giersbach.
http://www.fuse-works.com/
Thursday 5 May 2011
Sewer Inspection Video Sounds
with special guest Nate Tucker (percussion)
20:30 - 23:30, free entrance Club Karlsson
Keizersgracht 264 attic of NIMk
Amsterdam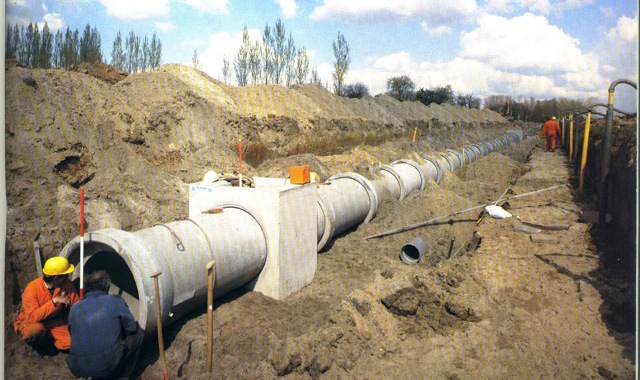 Wednesday 27 April 2011
Oorbeek performs scores as part of the Notations Festival at the Glazen Huis
with special guest Nate Tucker (percussion)
Notations Festival 27 April
18:00 - 20:30
Glazen Huis, Amstelpark, Amsterdam
Meer informatie: http://www.notations.nl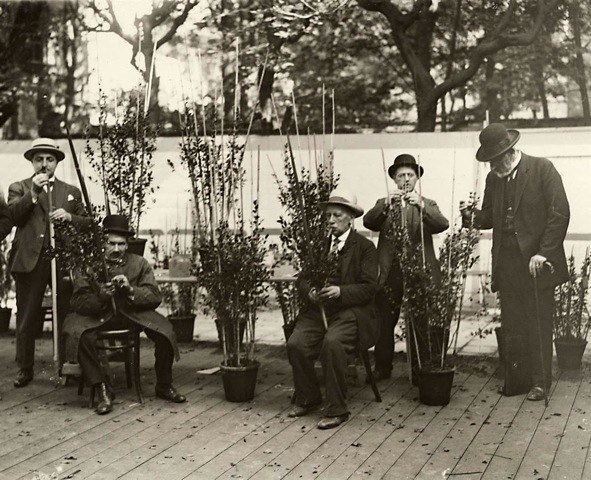 Thursday 3d February 2011
Ombromanie at YourSpace Rotterdam
Oorbeek, Serge Onnen and Tom Verheijen perform the final Ombromanie
at YourSpace, during the Rotterdam Film Festival
3d February 2011, 20:00 - 0:00 hrs, continuously
YourSpace, Kruiskade 9, Hilton Hotel, Rotterdam
Part of the XL-programme of the IFFR
http://www.filmfestivalrotterdam.com
http://www.filmfestivalrotterdam.com/.../ombromanie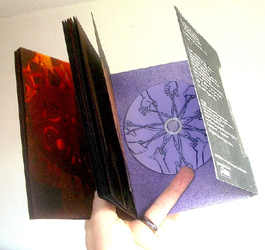 21st January 2011 till March
LOSS, dance production by Eskalibur
with music 'composed' by Oorbeek
From January 21st till March 13th Eskalibur plays
the dance production LOSS
at the Zeeheldentheater in The Hague
Eskalibur is a professional theatre group of people with a mental handicap
More info: http://www.eskalibur.nl/
Reserve tickets via reserveren[a]eskalibur.nl
Wednesday 15th December
Ombromanie dvd & book presentation
An intimate acoustic concert
to celebrate the release of the Ombromanie dvd & book
at the Soon Institute
Vijzelstraat 67, Amsterdam
http://www.thesooninstitute.com/tmc/
18:00 - 20:00 hrs, entrance free

Saturday 27th November: Oorbeek performs pieces for elevator
Grande Finale John Cage / Happy New Ears
finissage of The Anarchy of Silence / John Cage and Experimental Art at SCHUNK, Heerlen

27th November 2010, 11:00 - 22:00, Oorbeek at 15:00 & 18:00
SCHUNCK, Heerlen
http://www.schunck.nl/...etc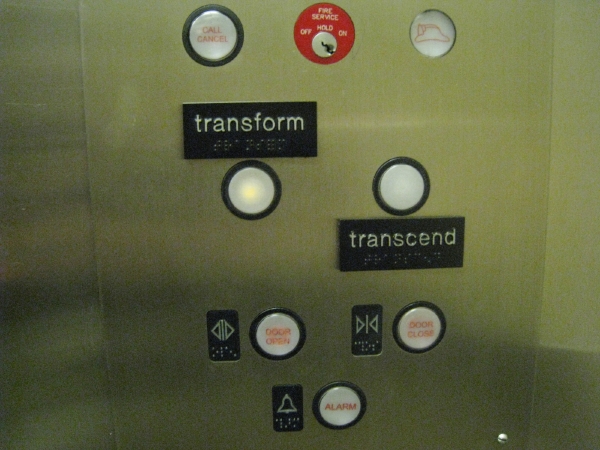 Friday 5th November 2010: Museumnacht Delft
Oorbeek begins again (with some books)
TND Cafe, DOK, Delft

5th November 2010, 21:00 hrs. environs
TND Cafe, DOK, Public Library, Delft
http://www.museumnachtdelft.nl/
Friday 20th August 2010: Ombromanie
Serge Onnen + Oorbeek
at the Vondelpark Muziekkapel
Shadows and Sound performance
Light by Tom Verheijen

20th August 2010, 22:00hrs.
Vondelpark Muziekkapel, Amsterdam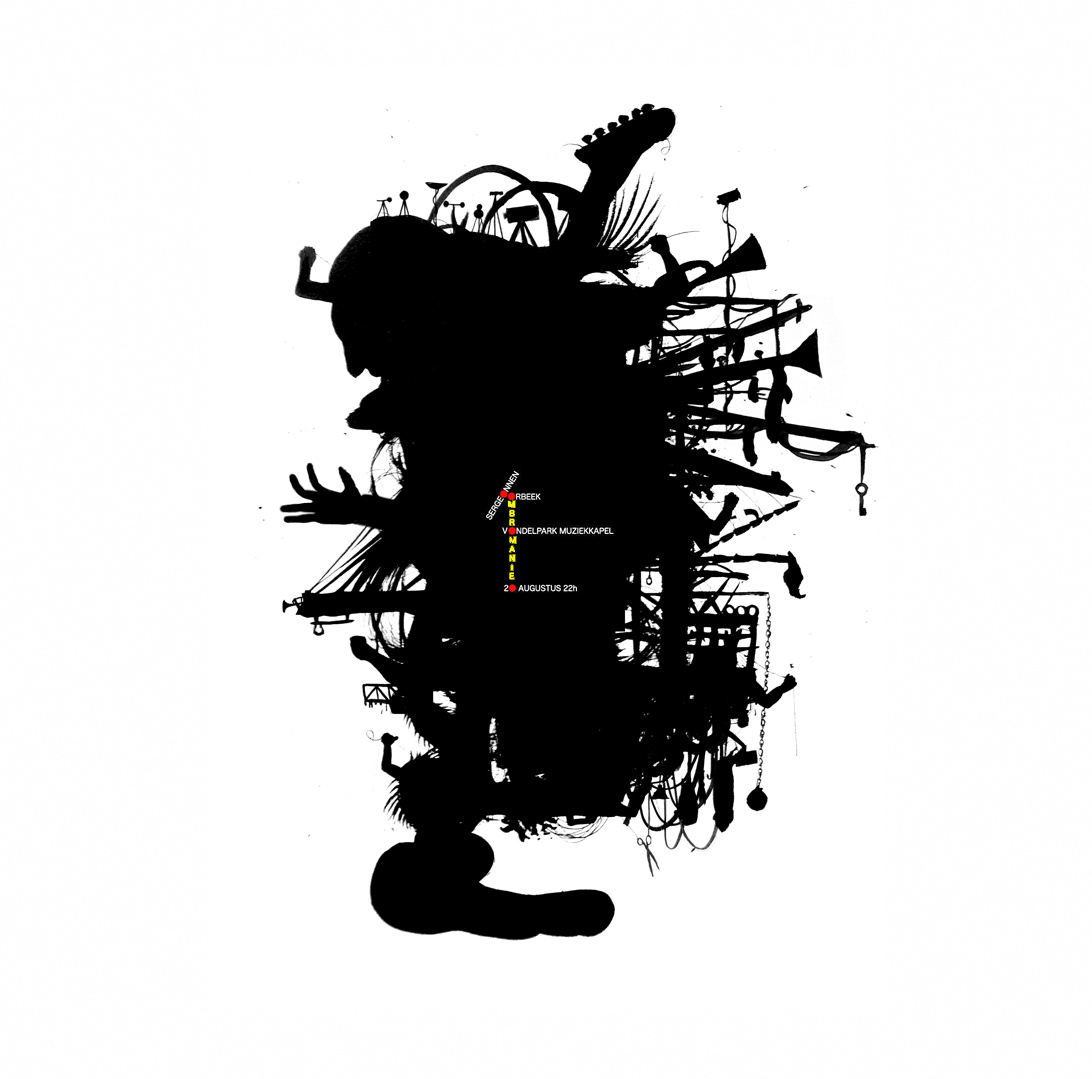 Kindly sponsored by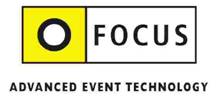 Saturday 19th December 2009 in BERLIN
The Last Lightbulbjoke
Serge Onnen + Oorbeek
Shadows and Sound performance
Light by Tom Verheijen

19-12-2009, 20.00 - 23.00 non-stop
BKVB Studio / Buro Friedrich
Holzmarktstrasse 15 - 18
S-Bahnbogen 53 BERLIN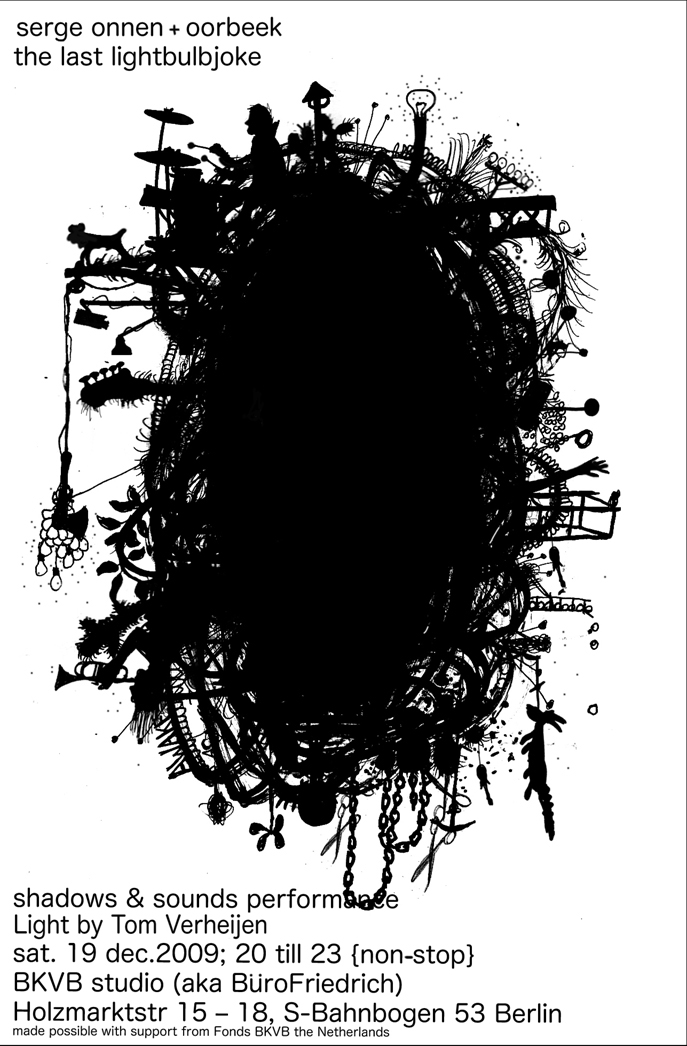 Sunday 7th December 2009
Oorbeek plays at Whatspace, Tilburg
Oorbeek plays as a trio at the 4th Whatnight in Tilburg
... and Klaas Kuitenbrouwer delivers a talk as well.
Sunday 7th December
Whatspace
Cor Wortelstraat 24
Tilburg

-->Photos
Saturday 14th November 2009
Oorbeek plays at WORM, Rotterdam
Oorbeek plays at the Night of the Artist Bands

Saturday 14th November
WORM
Rotterdam
organised by TENT, Rotterdam
Worm, Rotterdam

--> Photos (by Fred Ernst)
Saturday 10th October 2009
Oorbeek plays at Cyclic, Bike Art Event

Saturday 10th October
from 17.00h on
Chiellerie
Raamgracht 58
Amsterdam
Cyclic Amsterdam
Monday 25th May 2009
Oorbeek plays the office of Virtueel Platform
Oorbeek plays at the festive opening of the new Virtueel Platform office

Monday 25th May
16.00 - 19.00
Virtueel Platform
Damrak 70
Amsterdam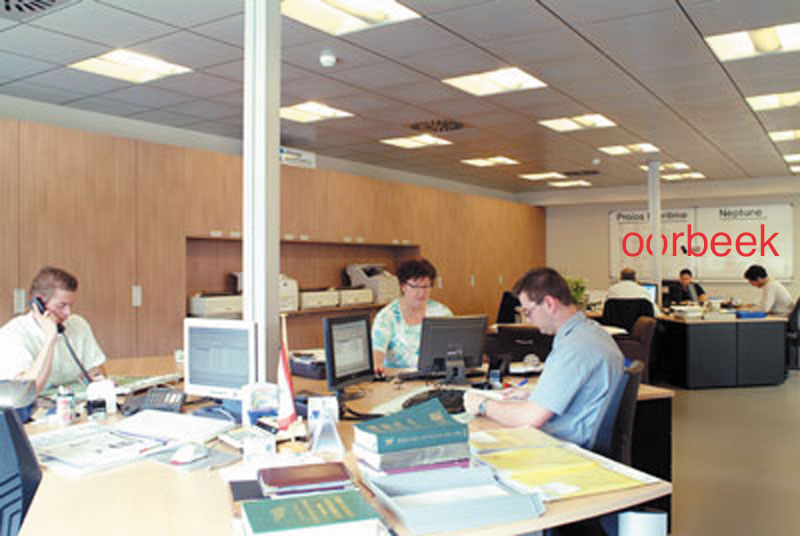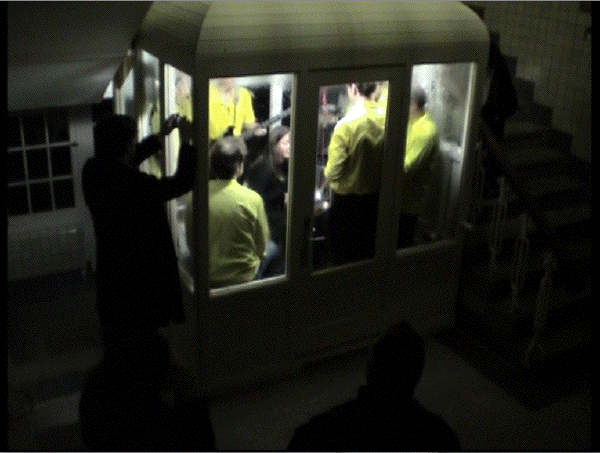 Oorbeek Skybox, Marci Panis, February 27th, image captured from video
Finissage Censored Pornography
DOGtime's Teachers Exposure
zondag 5 april 16:00 - 18:00
Oorbeek around a table at 17.00
De Service Garage
Stephensonstraat 16
1097 BB Amsterdam
http://www.deservicegarage.nl
Friday 27th February 2009
Oorbeek at Skybox opening
Oorbeek makes an installation for the Skybox in Marcipanis and plays during the opening. Skybox is the smallest artist-run-exhibition space in Amsterdam; open only during the opening and on request: skybox@marcipanis.nl

Friday February 27th
20.00 - 22.00
Skybox Marcipanis
Marcusstraat 52
1091 TK Amsterdam
http://www.marcipanis.nl/skybox
Friday 16th January 2009
Oorbeek plays at finnisage at Outline Amsterdam
Special music event for the finissage of Diederik Klomberg's rgb at Stichting Outline in Amsterdam. Oorbeek plays two short sets. On the same night also a voice performance by Jouke Schouwstra, Petra Lugtenburg and Henrike Hendrikson.

Friday January 16th
19.00 - 21.00
Stichting Outline
Oetewalerstraat 73
1093 MD Amsterdam
tel. 020-6931389
info@outlineamsterdam.nl
http://www.outlineamsterdam.nl/
Friday 3d October 2008
Oorbeek plays Drawings on Writings at Perdu
Oorbeek will be performing live at the presentation of Serge Onnen's book Drawings on Writing. Performance becomes image. Light technique by Tom Verheijen. Also scheduled to play om this festive night are Keyna Nara, Willem van Weelden, Mu Xue, Jim Fulkerson, Los Poetas and the Jackson MacLow Band (feat. Samuel Vriezen).
Friday 3d October
20.30 h
Kloveniersburgwal 86
1012 CZ Amsterdam
Drawings on Writing: http://www.drawingsonwriting.org/
Perdu: http://www.perdu.nl/
Samuel Vriezen: http://www.xs4all.nl/~sqv/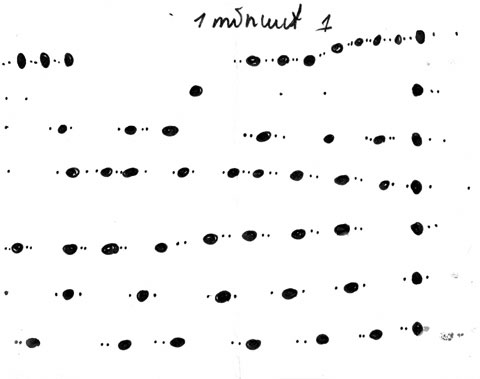 Thursday 20 March 2008
Oorbeek at the Mediamatic Lo-Tech VJ workshop
"The post-digital approach to VJ-ing. By using and combining various sources of projections and lights, fingercams, mirrors, foils, lenses, projection surfaces and more, participants will explore non digital ways to generate amazing visual trickery. In one day participants will work towards a live performance in the evening at about 20.00 hrs, with the acoustic-electric impro collective Oorbeek."
For more info and/or registration http://www.mediamatic.net/artefact-26904-nl.html
Location: Mediamatic, Oosterdokskade 5, Post CS building, 5th floor South, Amsterdam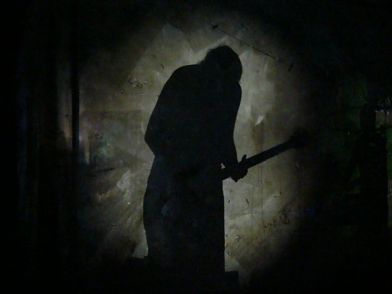 Thursday December 20th
A Little Bit Goes A Long Way part 3
Oorbeek plays at the Lloyd Hotel Amsterdam
Last project by Consortium
Lloyd Hotel, Oostelijke Handelskade 34, Amsterdam
20.00 (program starts at 19.00)
Same evening, same venue, same program:
Chris Watson: live surround mix The Sound of Sanctuary & Midnight at the Oasis.
Ron Wright / Andy Eccleston: Spindrift live.
Sound works in the elevators from Touch, with audio works by Oren Ambarchi | Biosphere | Fennesz | Ryoji Ikeda | Philip Jeck | BJNilsen | Rosy Parlane | Chris Watson & others.
http://www.consortium-amsterdam.nl/nl/nu/index.html
Wednesday December 12th
Oorbeek plays at the book launch of an Architecture of Interaction
De Veemvloer, Van Diemenstraat 410, Amsterdam
19.30 - 21.00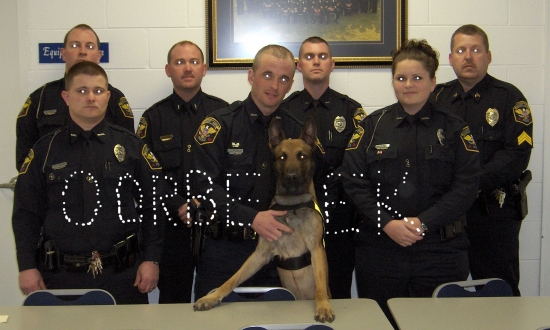 Sunday September 23d
Oorbeek at Volkskrantgebouw
Opening Agentur, Wibautstraat, Amsterdam
http://www.agentur.nl/
Sunday September 16th
Oorbeek at Impakt's Zondagsschool
14.30, Utrecht, Theater Kikker
http://www.impakt.nl
Saturday September 15th
Oorbeek at Carart
20.30, Delft, next to the trainstation
http://www.carartfestival.nl/
Monday August 20th
Oorbeek at W139
Live in a very big lamp
Concept: Serge Onnen
Light: Tom Verheijen
Music: Oorbeek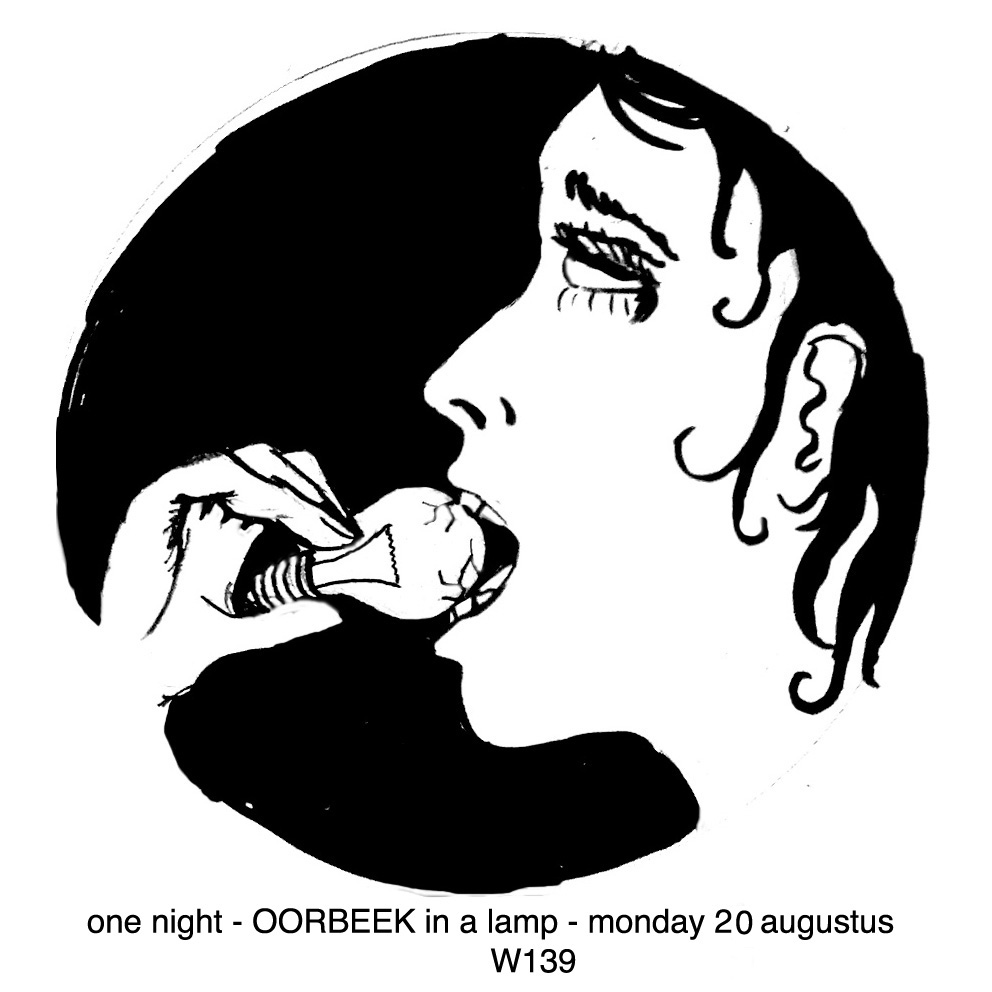 Moving and still images:
http://www.ctrlaltdelete.org/oorbeek.html
Monday July 2nd
BIMHUIS
Oorbeek and Bodies Anonymous
Dance & Music Impro Lab
http://www.bimhuis.nl
Review in De Volkskrant: scan
Friday 22th June 2007
Oorbeek and Bodies Anonymous
Impro music, impro dance and cars
20.30 - 21.00, Openluchttheater, Vondelpark, Amsterdam
Free entrance, half an hour only!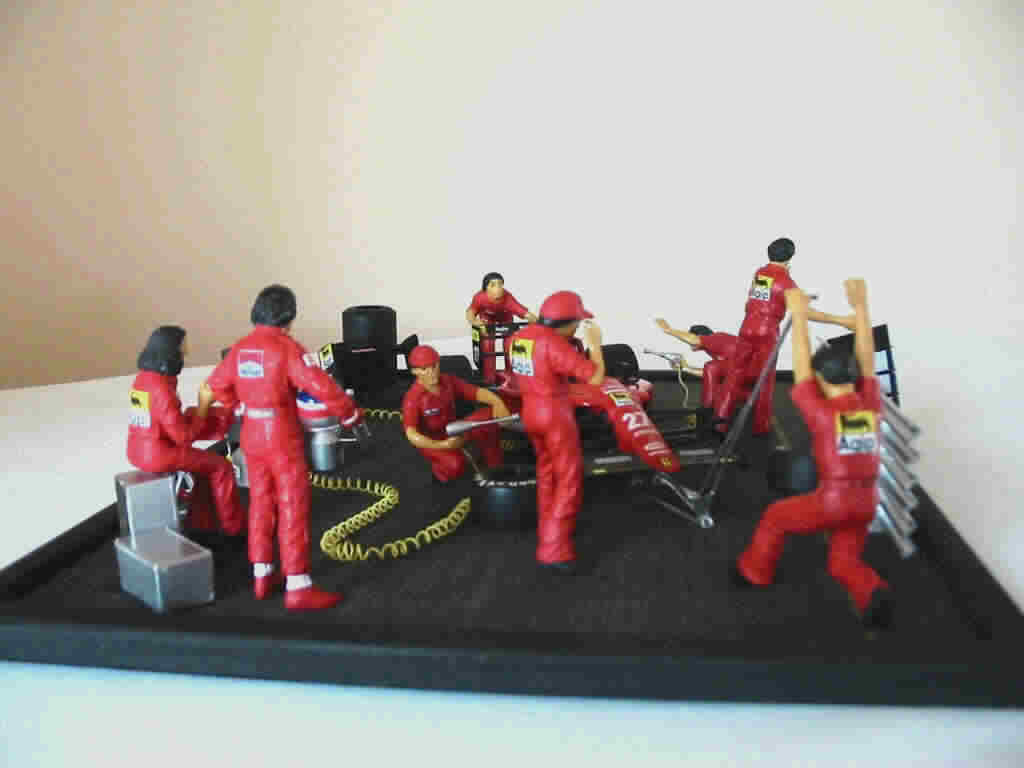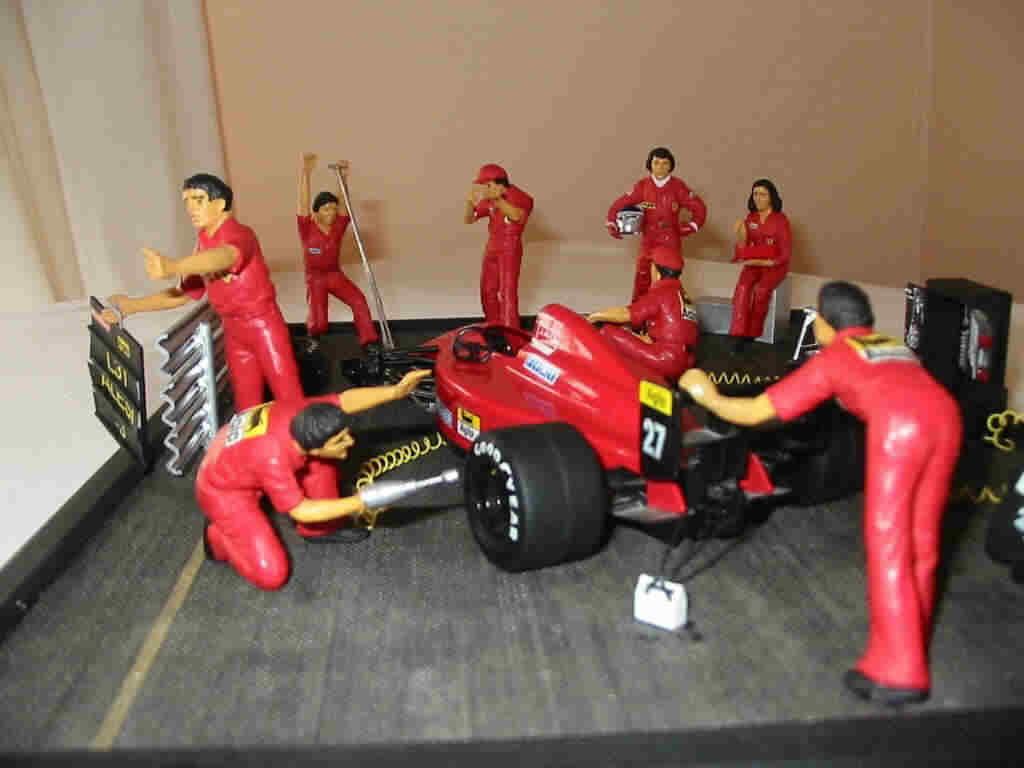 http://www.youtube.com/watch?v=cLplqeQAKJM
Saturday 12th May 2007
Oorbeek plays at the Urban Explorers Festival
17.00 - 18.00, Werkstat, Dordrecht
http://www.urbanexplorersfestival.nl/home.php.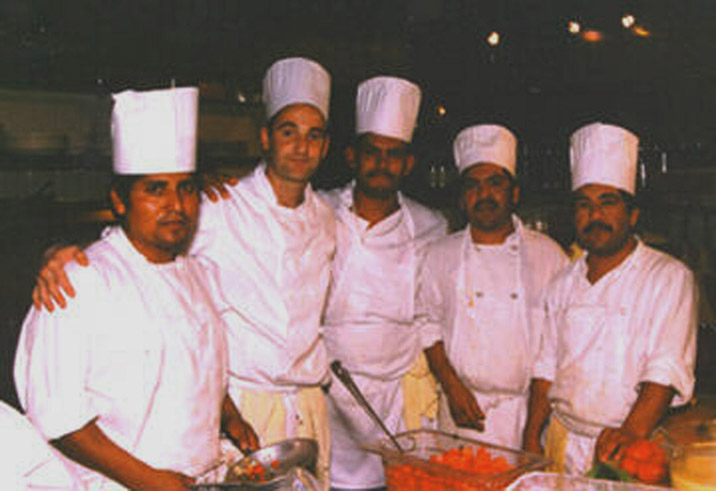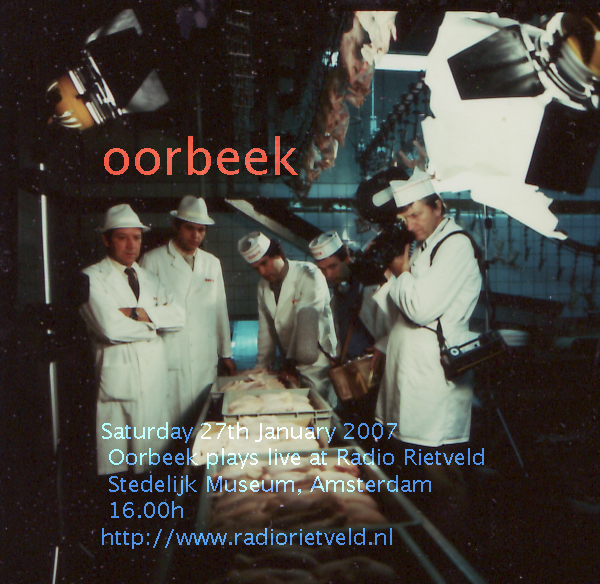 Saturday 27th January 2007
Oorbeek plays live at Radio Rietveld, Stedelijk Museum, Amsterdam
16.00h, Amsterdam
http://www.radiorietveld.nl/.
Monday October 2nd
Oorbeek at the Lloyd hotel, Lloyd Time on Mondays -- 'Cultural Embassy'
With dance by Marjolein Palthe, part of Death, Dissections & Doctors
21.00h, Amsterdam
See Cultural Embassy under http://www.lloydhotel.com/.
July 30th
Oorbeek + special guest Makigami Koichi, Contemporary Jew's Harp, http://www.muziekgebouw.nl/mondharpfestival/, BIMHuis, 15.00, + Plunk & J.M. Nasim.

December 3d:
Mark van Tongeren with Oorbeek, Stedelijk Museum, Amsterdam: http://www.stedelijk.nl/oc2/page.asp?PageID=986.
November 23d
Afternoon-concert by Oorbeek at the Glubbdubrib-party
Museum EnergeticA, Hoogte Kadijk 400, Amsterdam
September 30th:
Cafe Pakhuis Wilhelmina, Veemkade 576, Amsterdam
PARAAT Live
Avondprogramma van CONSORTIUM, W139 en de VEEMVLOER
met ook DAN GEESIN en DJs Selecta PHILIP
21.00 uur, 5 euro
http://www.cafepakhuiswilhelmina.nl/2005/09-september/30-09-05.htm

September 9th: De Badcuyp
De Badcuyp, Amsterdam, Wheels of Fortune 21.00h, http://www.badcuyp.nl
June 30th 2005: Oorbeek in Paradiso, Rietveld Final Exam
Rietveld goes New Weird Amsterdam, Oorbeek plays on the party of the final exam of the Rietveld Academie, thursday evening, Paradiso, Amsterdam. Entrance 10 euro, start 22.00h.
9 december 2004: Maximum Clarity in Marci Panis
Oorbeek in verschillende kwartetbezettingen: Maximum Clarity in Marci Panis, Marcusstraat 52 (tussen Weesperzijde en Wibautstraat), 21.00u (sic!!!), 3 euro. Met om 21.00 The Workshop (modern klassiek) en om 22.00 Maximum Clarity (Oorbeek).
21 november 2004: Oorbeek in Almelo
Oorbeek maakt geluid vrij, op zondagmiddag, in de Openbare Bibliotheek van Almelo. Aanvang 15.00u.
3 - 7 november 2004: expositie Serge Onnen
Serge Onnen exposeert filmpjes en tekeningen op het Holland Animatie Festival in Utrecht. Met een soundtrack van Oorbeek bij Break 2 -->.
16 oktober 2004: Recensie van de Night of Noise
door Theo Ploeg, in het Haarlems Dagblad dd. 16 oktober 2004: haarlemsdagblad.jpg.
14 oktober 2004: Night of Noise, Oorbeek in Grasland
Oorbeek speelt op de Night of Noise in Grasland, Helmbrekersteeg 7, Haarlem. Aanvang 20.30u, inkom 5 euro. Ook met Kapotte Muziek en het Chord und Discord Orchestra. Reserveren aanbevolen: 023-5510067 / muzieksalon[at]worldmail.nl. http://www.grasland.nl/.
14 oktober 2004: Improvisatie als kaartspel
Interview met Oorbeek door Tonie van Ringelestijn, voor Cut-Up: http://www.cut-up.com/news/detail.php?sid=319.
12 september 2004: Oorbeek op het dak van POST/CS (TPG-gebouw)
Oorbeek speelt zondagmiddag 12 september op het dak van het TPG-gebouw, Oosterdokskade, Amsterdam, vanaf 16.00u. Zon of geen zon. Ook bij regen en wind.
Foto's: http://sneaker.nl/photos/20040912.OorbeekInTGeheim/.
23 mei 2004: Oorbeek in Pakhuis Wilhelmina
Oorbeek speelt op zondagavond 23 mei in het cafe van Pakhuis Wilhelmina, aanvang 18.00h. met eten en drinken. Pakhuis Wilhelmina: schuin tegenover Panama, Veemkade 576, ingang aan waterzijde = achterkant van de Oostelijke Handelskade, Amsterdam: http://www.cafepakhuiswilhelmina.nl/.
Filmbeelden van het optreden, bijna een videoclip zonder geluid: http://www.designwerk.nl/pieterjan. Klik op 23 mei.
8 mei 2004: Oorbeek op de Kunstvlaai
Verandering, durf, vernieuwing, power, kunst
Oorbeek speelt op zaterdagmiddag 8 mei op de openingsdag van de Kunstvlaai: http://www.kunstvlaai.nl. Aanvang concert 17.00 uur. Verder ook nog Brian McKenna, Berg/Bergen/Kuchlein, Springintgut, Transformerdiroboter en VJ Arno Coenen. Zie: http://www.listen.to/aikitwifwirikia. Samenstelling Nathalie Bruys. Entree 4 euro. Plaats: Machinegebouw, Westergasfabriek, Amsterdam.
--> oorbeek_txt_1 = pdf download
--> oorbeek_txt_2 = pdf download
--> muziekdoosje_txt = pdf download
24/25 april 2004: Oorbeek in Beesterzwaag
Benjamin Gaulon/Ponk (http://www.digitalrecycling.com) bouwt voor zijn tentoonstelling in Kunsthuis Syb, Beesterzwaag (http://www.kunsthuissyb.nl/) een geluidsinstallatie getiteld RES (Recycled Entertainment System). Zes antieke Nintendo-controllers sturen via MAX geluid aan. Leden van Oorbeek en Atonk (http://www.atonk.nl) spelen ermee. (Publiek toegankelijk).
Video door Benjamin Gaulon: http://xs.mohr-i.nl/~jeroendb/jam_session.mov 48MB!!!!
2 april 2004: Oorbeek plus Mai Ueda
'Cultband' Oorbeek begeleidt de LiveZingperformance van Mai Ueda (New York) tijdens de Mediamatic avondSalon, vanaf 20.00 uur, Mediamatic Supermarkt, hoek Rapenburg - Nieuwe Foeliestraat, Amsterdam: http://www.mediamatic.net/cwolk/view/18437. Foto's: >>, >>, >>. (cprght: sneaker.nl). Filmclips: http://www.designwerk.nl/pieterjan. Klik op 2 en 3 april.
25 maart - 24 april 2004: Serge Onnen in Parijs
Serge Onnen exposeert in de galerie des multiples in Parijs (48 Rue de Montmorency). Daar is de Oorbeek-cd (Fijn lawaai ding 1) te krijgen, met geluid, film en foto's.
26 februari en 1 maart 2004: Mark van Tongeren
Twee optredens van Collision Palace o.l.v. Nathan Fuhr, met Oorbeeks Mark van Tongeren in het ensemble, in het BIMhuis en bij Kraakgeluiden (http://www.kraakgeluiden.tk).
20/21 februari 2004: Oorbeek in de studio
Twee dagen in de studio van Björn in de Rijkshemelvaart. Doel: opnames maken voor een CD.
1 februari 2004: Oorbeek Stilte in Kristins Keller
Een concert in de kelder van Kristin, Laing's Nekstraat 29huis, hoek Steve Bikoplein, Amsterdam-Oost. Deur open 20.15 uur. Aanvang concert 21.00. We beginnen op tijd, na aanvang van het concert geen toegang. Entree gratis, donatie welkom.

Toen Kristin M. eind 2003 verhuisde naar de Laing's Nekstraat 29 ontdekte zij onder haar huis een kelder van 30m2, met half afgebladderde kleurige muurschilderingen en graffiti gedateerd 28 maart 1959. Een vergeten jazzkelder? Een speakeasy voor existentialisten? Oorbeek geeft hier haar eerste concert van 2004 naar voorbeeld van de Japanse off-site scene, op een plek waar volume uit den boze is vanwege burengerucht en ongewenste geluiden van buiten mengen in de improvisatie.
24 oktober 2003: Lost + Found Radio
Interventies van Oorbeek (in kwintetbezetting), vrijdag 24 oktober, 21.00 uur, De Waag, Amsterdam, als onderdeel van de Lost and Found Radio
meer info: http://www.lost.nl.
oktober 2003: Mark van Tongeren in Auckland en Taiwan
Concerten en workshops van Oorbeeks Mark van Tongeren in Nieuw-Zeeland (Auckland) en Taiwan.
20 september 2003: Haagse CultuurNacht
Oorbeek met beeld, Stroom HCBK, Spui 193 - 195, Den Haag, 20.00 - 0.00 uur.
Dubbeltalenten tijdens de Haagse Cultuurnacht met verder o.a. Het Instituut voor Betaalbare Waanzin
meer info: http://www.stroom.nl/.
geblogd door: http://www.cioran63.com, item 1865, 21 september 2003. --> [foto cioran63]
14 september 2003: Weg langs de Snelweg
Oorbeek onder het eten, zondag 14 september, van 19.30 - 21.00 uur, in het Leisure Resort Parallelweg, op het Bedrijventerrein Nieuwgraaf, Duiven, bij Arnhem, pal aan de snelweg E35 / A12, afslag 27 of 28
meer info: http://www.stichtinggang.org/Projecten/Parallelweg/Parallelweg.htm.
14 augustus - 31 augustus 2003: Test-Portal
Oorbeek is onderdeel van de avond-tentoonstelling test-portal in de Docklands, Amsterdam: http://www.test-portal.nl.
zo. di. wo. do. 16.00-23.00. vr. & za. 16.00-02.00, NDSM-werf, Neveritaweg 15, A'dam-Noord
Oorbeek geeft een aantal concerten in wisselende bezettingen, is aanwezig met een installatie en improviseert.

zondag 29 juni 2003: Oorbeek in Smart Projectspace
21.00-22.00, Smart, cinemazaal, Constantijn Huygensstraat 20, Amsterdam. Onderdeel van A Performance Festation, vanaf 16.00 optredens en tentoonstellingen van o.a. Ricky Seabra, Jason Skeet en anderen

zaterdag 14 juni 2003: Oorbeek op de Vrije radio festatie
Oorbeek speelt in triobezetting ergens in de middag in Voorbeeld, Postjesweg 1, Amsterdam, in het programma van de vrije radio festatie: http://www.vrijeradio.nl

vrijdag 30 mei 2003: COBRA in Zaal 100
Oorbeeks Mark van Tongeren en Maarten Hepp spelen in het ensemble dat John Zorn's COBRA uitvoert, prompter: Nathan Fuhr
Aanvang 21.30 uur, Zaal 100, Wittenstraat 100, Amsterdam. Inkom 5 euro.

woensdag 28 mei 2003: Oorbeek live in Zaal 100 [foto] [foto] [foto] [foto] [foto] [foto's Peet Sneekes]
Oorbeek speelt in de serie 'Maximum Clarity'. Voor de pauze: 'The Workshop', met pianocomposities van Dante Oei.
Aanvang 22.00 uur, Zaal 100, Wittenstraat 100, Amsterdam. Inkom 2,25 euro.

Elke tweede en vierde woensdag van de maand vindt er in Zaal 100 een concert plaats in een informele sfeer. Onder de naam 'The Workshop' spelen leden van het ensemble 'The Barton Workshop' en gastmuzikanten muziek van componisten die hen speciaal interesseren.

Het tweede uur van de avond, met als titel 'Maximum Clarity', is gewijd aan improvisatie in kleine bezetting, variërend van solo's tot hooguit een kwartet.
Oorbeek-feature in Nuwijweer
Foto's en drie mp3's ( -->) van Oorbeek zijn te vinden in het nieuwe nummer van het webtijdtijdschrift Nuwijweer: http://www.nuwijweer.nl.
vrijdag 4 april 2003: Mark van Tongeren and The Orchestra of Homemade Instruments
Galapagos-bar, New York City.
zaterdag 15 maart 2003: Rubbit! Oorbeek live in Consortium
Zaterdag 20.00 uur, Consortium, opening van de tentoonstelling Rubbit! met muziek van Oorbeek en een performance van Miek Hoekzema. Gratis entree, Oostelijke Handelskade 29 Amsterdam: http://www.xs4all.nl/~conso/.
zondag 9 februari 2003: Oorbeek live in galerie Outline
Zondagmiddag, 17.00, twee sets van Oorbeek bij de tentoonstelling Moving Heads. Gratis entree. Oeterwalerstraat 73 Amsterdam. http://www.outlineamsterdam.nl.
donderdag 7 februari 2003, Oorbeek en Simulacrum
Presentatie van Simulacrum, in de theaterzaal van CREA, Grimburgwal, Amsterdam. Vanaf 9 uur lezingen. Oorbeek speelt om ongeveer 22.15. Entree gratis.
maandag 25 november 2002: Oorbeek live op Mediamatic/IDFA-workshop-afterparty
Zes musici op zes verdiepingen. Kaatsen en seinen. Een kort optreden van Oorbeek in het trappenhuis van Mediamatic, Prins Hendrikkade 192, feest 21.30-01.00. Oorbeek speelt om ongeveer 22.30.
oktober 2002: Installatie van Serge Onnen op Impakt
Soundtrack van Oorbeek bij animatiefilmpjes van Serge Onnen, onderdeel van zijn installatie op het Impakt festival.
oktober 2002: Mark van Tongeren in Finland
Concert van Oorbeeks Mark van Tongeren als boventoonzanger in Finland.
oktober 2002: Overtone Singing
Presentatie van het boek Overtone Singing van Mark van Tongeren; met optredens en een uur De Wandelende Tak, Radio 4. Zie ook http://www.fusica.nl.
25 augustus 2002: Oorbeek | Radio Threshold
Kort optreden op de afsluiting van de tentoonstelling Thresholding, SmartProjectspace, Amsterdam.
juli/augustus 2002: Radio Oorbeek | Radio Threshold: Amsterdam 96.3FM
Oorbeek maakt, in afwisselende bezetting, onaangekondigde programma's met onbekende inhoud op onaangekondigde tijdstippen
radio threshold, wo - zo 96.3 FM, vrije ether/amsterdam.
23 juni 2002: Haagse Rondgang afterparty
Live optreden in de Casuariestraat -->>.
8 juni 2002: Rijkshemelvaart
Live optreden in de Rijkshemelvaart -->>.
8 mei 2002: Radio 100 | De Cameleon
Live in de Cameleon en op Radio 100 -->>
april 2002: Tentoonstelling
Animatiefilmpjes van Serge Onnen, met soundtracks van Oorbeek, The Bakery/Annet Gelink Galerie, Amsterdam.
3 maart 2002: Salon@mediamatic
Instant radiofonie op lokatie en verbindende jingles -->>
januari 2002: Soundtracks
Soundtrack animatiefilmpje -->>
27 september 2001: Luxus
Live optreden in Luxus -->>