Oorbeek Now | Events | Things | People | Mp3s | Text | Links | Contact
Oorbeek Things
Oorbeek releases, LPs, 7''s, CDs, T-shirts, special editions...


KAVEL LP vinyl
Available NOW!!!
New 8 track LP / 12 track download on Blowpipe Records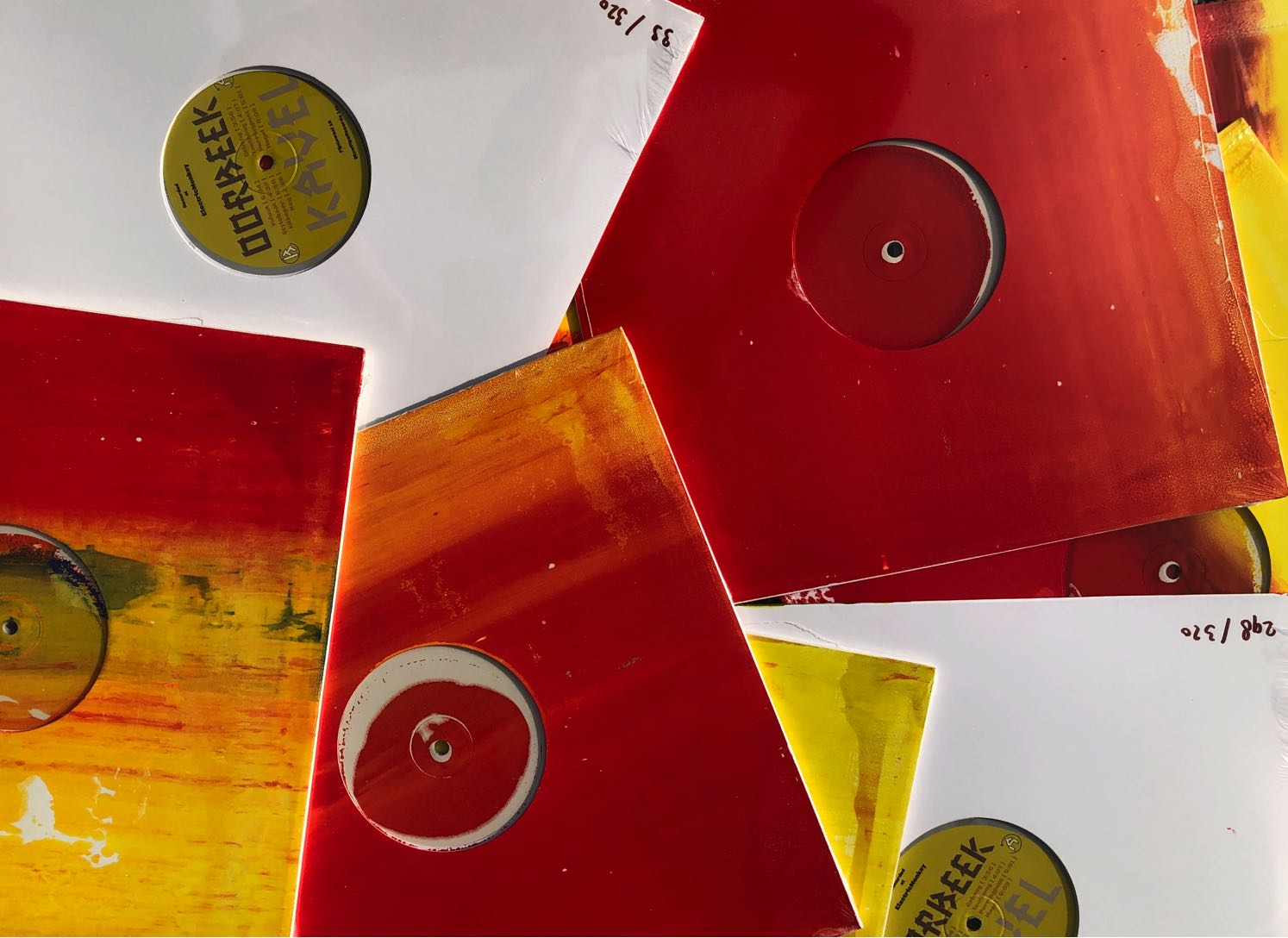 Amsterdam's most uncompromising 7-piece weird-jazz-avant-rock outfit Oorbeek organically blends atmospheric film music with hard rock, tribal vocals with distorted New Age bells and yodel with dub. For experienced listeners only!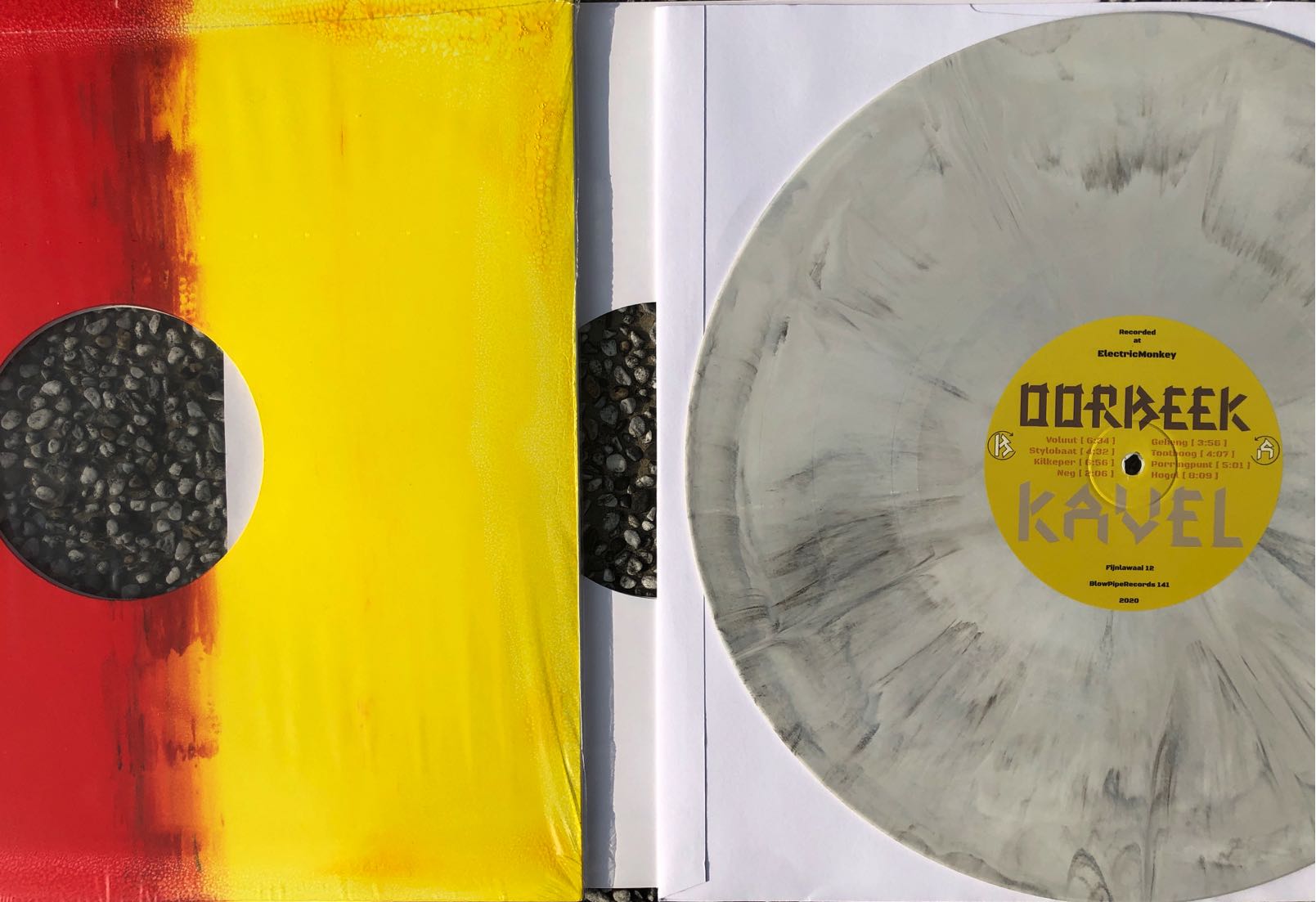 Comes with redeem/downloadcode for the full album of 12 tracks on bandcamp.com. Original artwork design by Peter Cleutjens, Serge Onnen, Klaas Kuitenbrouwer and Maarten Hepp.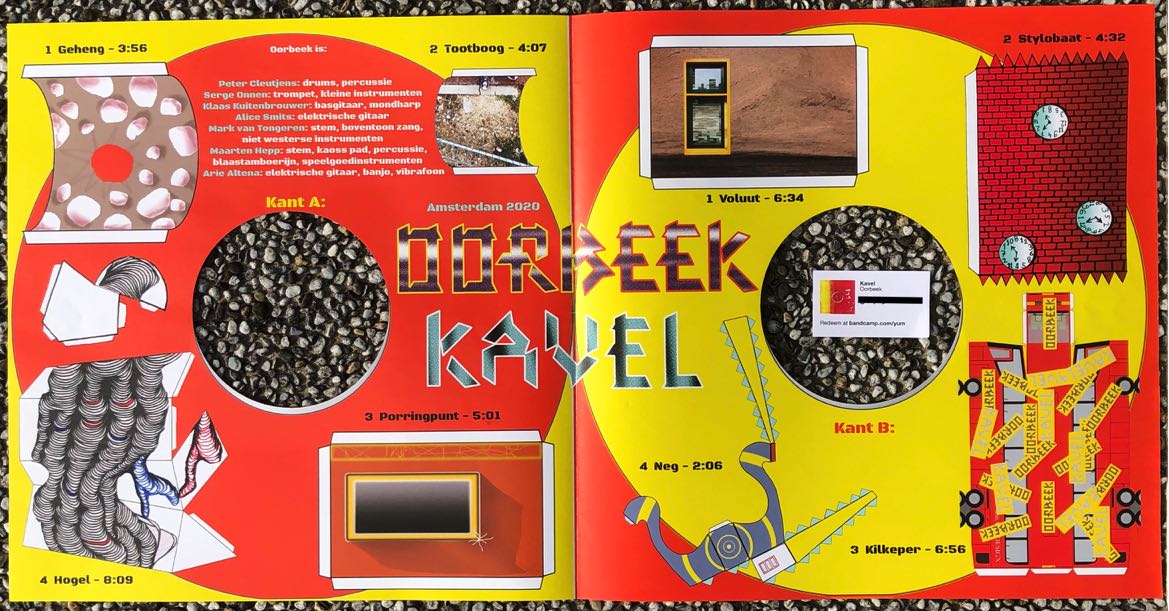 Kavel comes in a not-terribly limited edition of 320 unique, numbered copies. Each silkscreen sleeve was handprinted by Serge Onnen and Klaas Kuitenbrouwer in August 2020 at Amsterdam Grafisch Atelier, maintaining social distance during the corona pandemic.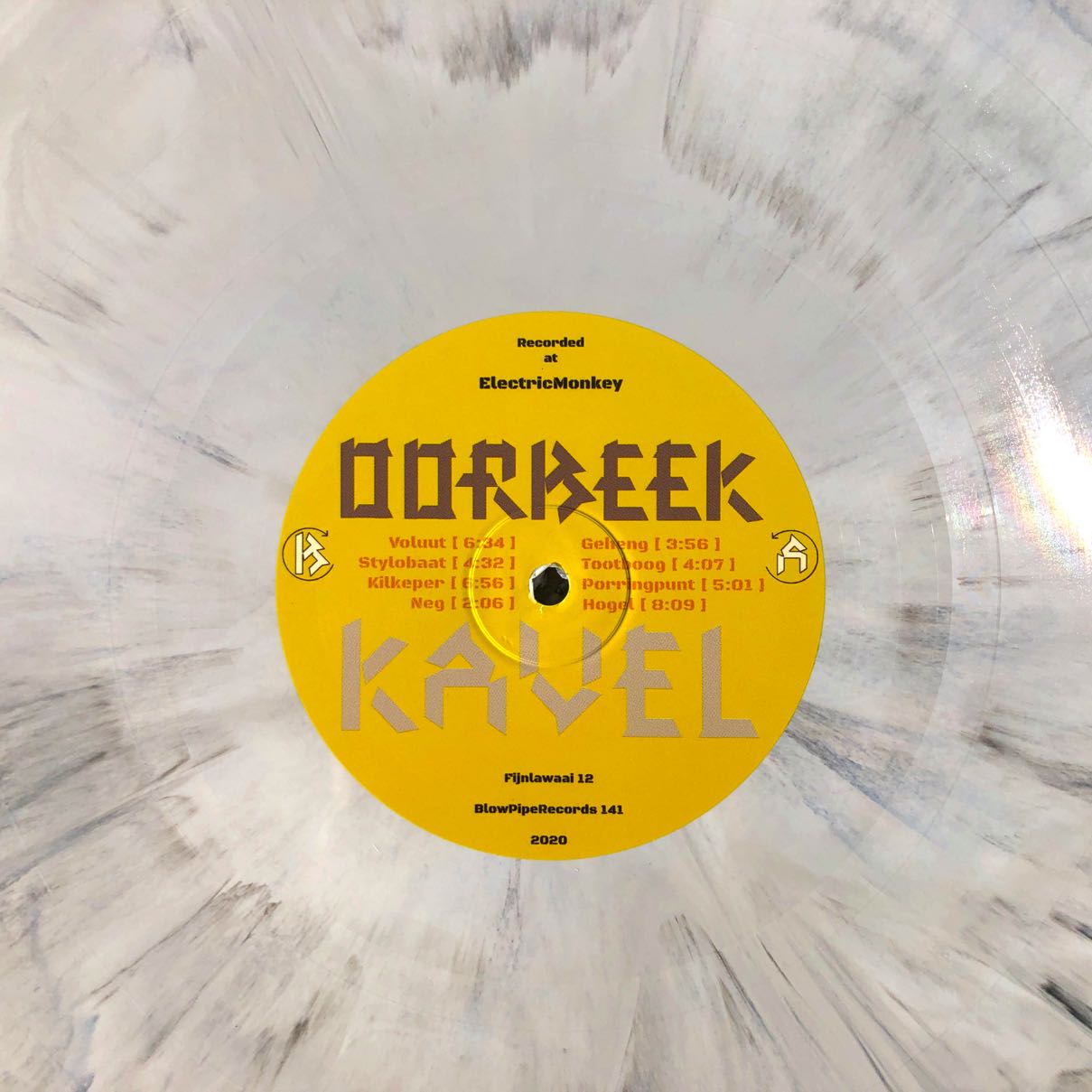 1. Geheng 03:56
2. Tootboog 04:07
3. Porringpunt 05:01
4. Hogel 08:08
5. Voluut 06:33
6. Stylobaat 04:32
7. Kilkeper 06:56
8. Neg 02:05



KAVEL video

Oorbeek KAVEL from serge onnen on Vimeo.
KAVEL impromptu videoclips by Serge Onnen

geheng by OORBEEK from serge onnen on Vimeo.
voluut by OORBEEK from serge onnen on Vimeo.
CHRISTMAS 7 inch SINGLE
Oh? Denneboom!
Available from 15 December 2018 onwards!!!!
Yellow vinyl!!!!! Cover handmade by real artists!!!!
Order at BLOWPIPE RECORDS Or send us an e-mail: christmas@oorbeek.net

Order Oorbeek at Bandcamp
Oorkerst and Oorbeek live at Paradiso!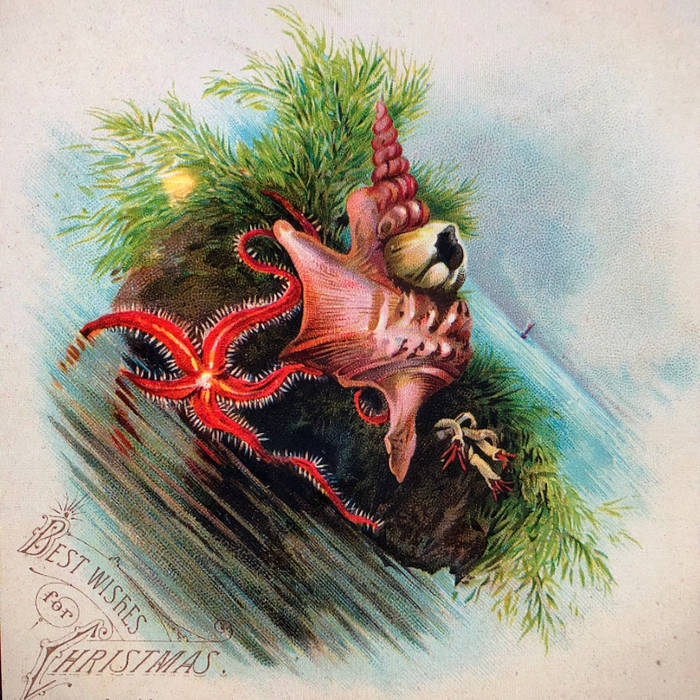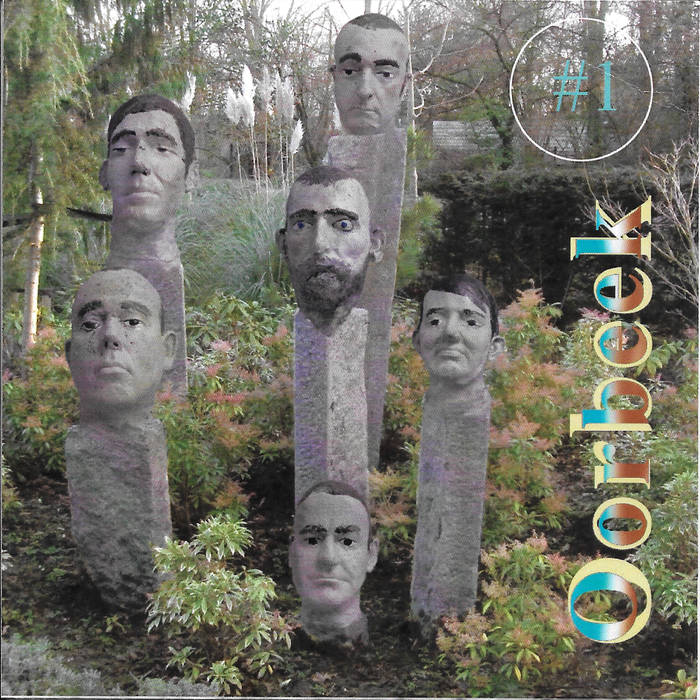 Limited edition
Serge Onnen & Oorbeek: Ombromanie dvd & booklet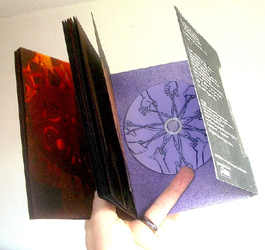 A 48 pages booklet plus dvd, documenting the Gazebo Ombromanie performance at the Vondelpark, Amsterdam, 2010.
Including footage originally shot on 16mm, super-8 and hd.
Booklet designed, edited and produced by Serge Onnen, printed at 'De Stencilkelder'
Very limited edition, all copies numbered.
Fijn Lawaai Ding 010.
Euro 35,-. To buy please contact info(apestaartje)oorbeek.net
ETOS completely legal download
via --> cd baby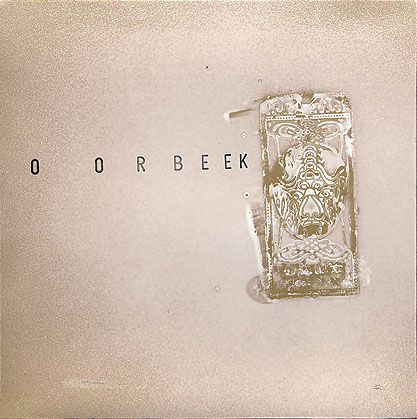 CD-R Do Not Play Loud
tracklist
1. Schade in het wild
2. Ernst gaat liggen
3. De smaak gewassen
4. De teller van binnen
5. AM
6. AK
7. MK
8. MM
9. PA
10. MP
11. MS

Recordings: Studio Climax, 2004
Available June 30th 2005
27 numbered copies, in handmade cover with artwork of Peter Cleutjens
20 given away for free to the first 20 buyers of ETOS
Sold out
Also available as simple CD-R in transparant jewel case
Price: 5 euro
Info: ariealt@xs4all.nl


CD-R Perseus, mijn held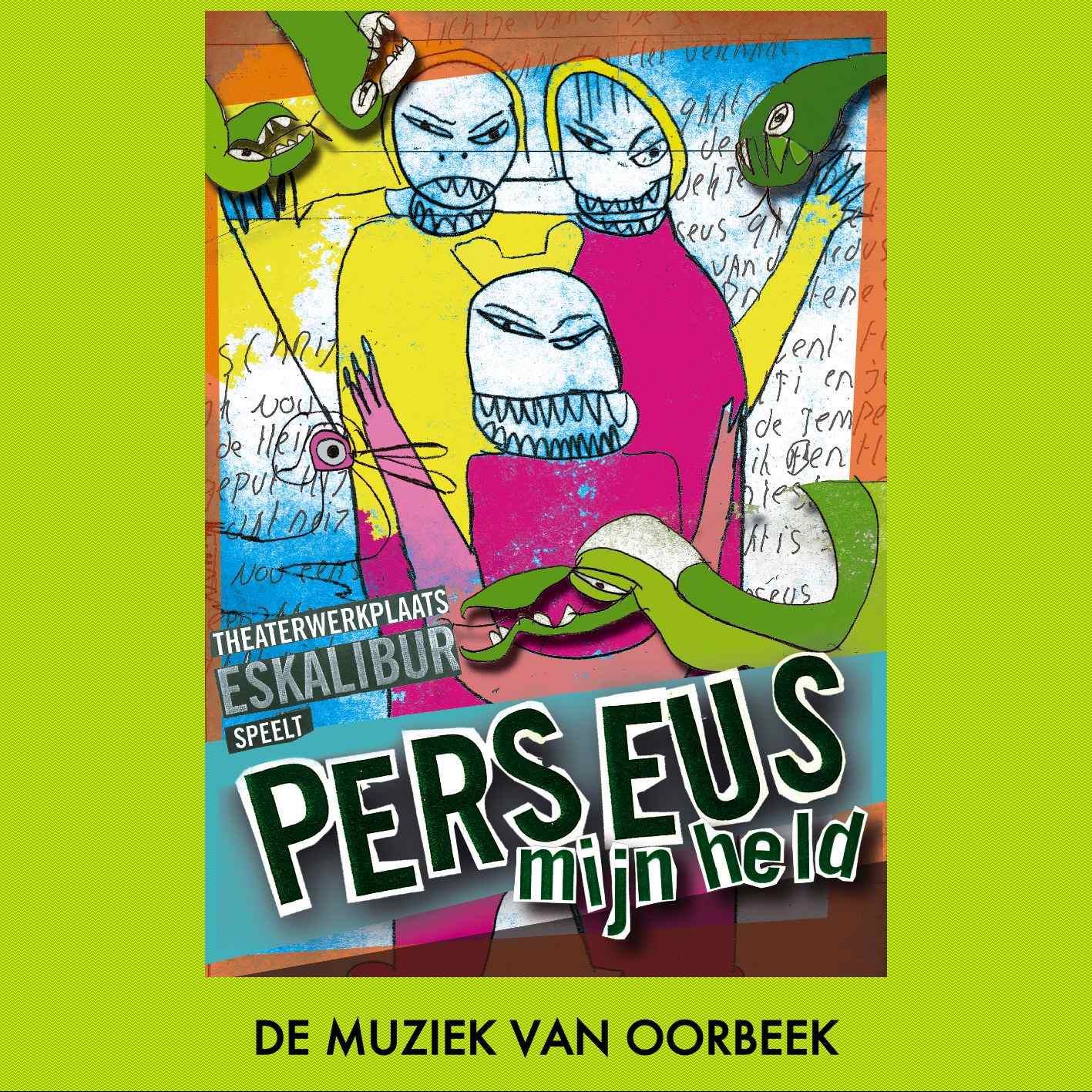 Music Oorbeek recorded for the play Perseus, mijn held
by 'Theaterwerkplaats Eskalibur', http://www.eskalibur.nl
tracklist
1. Verleiding
2. Sirtaki 1
3. Perseus 1 (solo)
4. Orakel
5. Perseus 2 (guitar/toypiano)
6. Woede
7. Perseus 3 (guitar/flute)
8. Nimfen
9. Perseus 4 (guitar/trumpet)
10. Perseus vliegt
11. Perseus 5 (trio)
12. Grot van Medusa
13. Perseus 6 (guitar/bassguitar)
14. Sirtaki 2
15. Perseus 7 (guitar/drums)

Recorded by Theo Vogelaars in the Snevo studio, Snelrewaard, produced by Maarten Hepp, Marjolein Palthe and Theo Vogelaars
Fijn Lawaai Ding 05
10 euro's (incl. postage + packaging)
Info: ariealt@xs4all.nl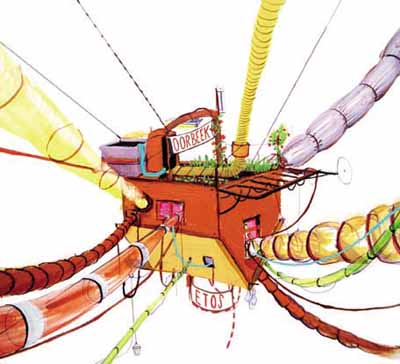 First official CD-release
ETOS
tracklist
1. Does [6.36]
2. Body & Beauty [3.51]
3. Hardeman [4.35]
4. Woerdings [2.04]
5. Grimme [3.43]
6. Tropic 2000 [12.17]
7. Duffels [1.51]
8. Slinger [4.48]
9. Malik [6.29]
10. Rab [9.28]
11. Bles [17.01]
CD | Fijn Lawaai Ding 03
Recorded at Studio Climax, 2004
Artwork: Serge Onnen
Distribution: Subterranean Distribution
Available through Subterranean Distribution: Mailorder; or order it at your local CD-shop.
Also available directly from Fijn Lawaai.
Send an e-mail to ariealt@xs4all.nl with your order, name and adress, and transfer 12,50 euro to giro 4250302 of Stichting Fijn Lawaai, Amsterdam. We will mail you a confirmation of the order, and send the CD as soon as your payment has been received.


Special pre-edition of ETOS
three copies, in special packaging, design Peter Cleutjens
Fijn Lawaai Ding 02
sold out


TXT
Oorbeek teksten, uitgave voor de Kunstvlaai 2004
(Oorbeek texts, edition for the Kunstvlaai 2004)
A4 xeroxes, with a staple... each bundle unique, with original texts, drawings and diagrams of Oorbeek-members, more or less 20p.
--> oorbeek_txt_1 = pdf download
--> oorbeek_txt_2 = pdf download
--> muziekdoosje_txt = pdf download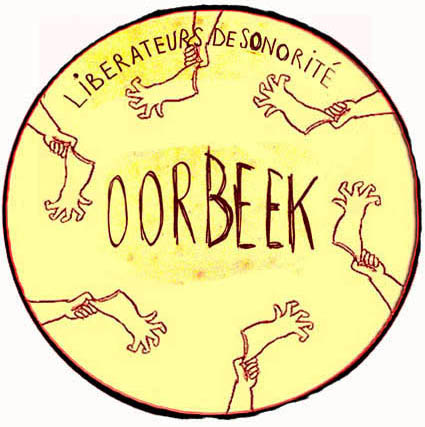 Liberateurs de sonorité
Oorbeek demo-CD-R+ | Fijn Lawaai 01
recordings summer 2003, + movies and animation of Serge Onnen
artwork Serge Onnen
flipside
Fijn Lawaai Ding 01
Still a few available
Info about ordering e-mail: ariealt@xs4all.nl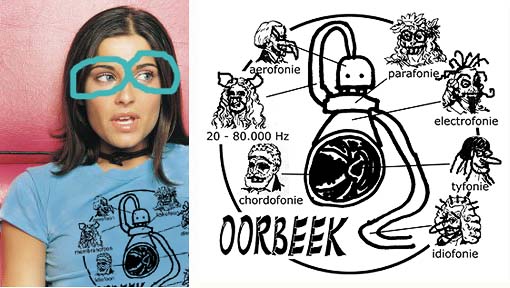 Oorbeek T-shirt (limited edition)
15 euro | design Peter Cleutjens
Fijn Lawaai Ding -01
mail: ariealt@xs4all.nl only 2 left


CD-R Tachograaf
some 10 copies, packaged with tachograaf-disks and drawings by Maarten Hepp
recordings at Rock Supplies
Fijn Lawaai Ding -02b
sold-out and lost


CD-R 2003
15 copies, each packaged in original drawings of Peter Cleutjens
recordings of the Maximum Clarity programme
Fijn Lawaai Ding -02a
sold-out at the concert in Zaal 100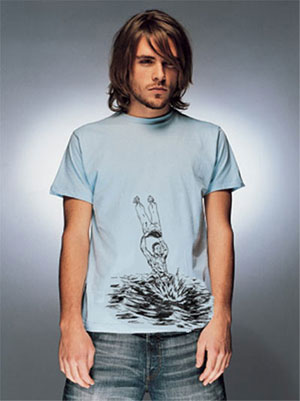 Oorbeek T-shirt (limited edition)
design Serge Onnen & Bea Correa
sold out
Fijn Lawaai Ding -03